Politics
From the FBI to NASA, Here Are Trump's Research Cuts
The value of R&D contracts awarded by federal agencies has fallen 16 percent so far this year. This chart gives the blow-by-blow.
By and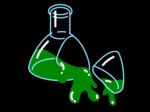 The deep cuts to scientific research in President Trump's first budget request met resistance from Congress. But federal research spending is already slowing. In the first seven months of 2017 the value of R&D contracts awarded by federal agencies fell 16 percent from the same period last year, according to data compiled by Bloomberg Government.* The drop can't be attributed just to the churn of a new administration: In the first seven months of Barack Obama's presidency, research contracts fell only 3 percent.
The Department of Commerce, which posted one of the biggest reductions, says the decline reflects a longer-than-usual wait for Congress to pass a funding bill. Federal contractors cite other factors, including the slow pace of political appointments, Trump's hiring freeze, his attitude toward science, and agencies bracing for future cuts.

Federal research contracts often allow funds to be spent over multiple years; money that isn't spent in one fiscal year can be redirected to other programs in the next. And when money is tight, research is often the first casualty, according to Nick Nayak, former chief procurement officer for the Department of Homeland Security.
"Intuitively, you know you should do it," says Nayak, who now runs Green Light Acquisition, a consulting firm. "On the other hand, you don't know 100 percent what it's going to produce, vs. building a ship—or building a wall."
Before it's here, it's on the Bloomberg Terminal.
LEARN MORE