markets
U.S. Stocks Gain, Volatility Slips as Tension Ebbs: Markets Wrap
By
Tepid price growth puts Fed move in doubt; bonds rise

Markets start to stabilize as Korea tensions remain in focus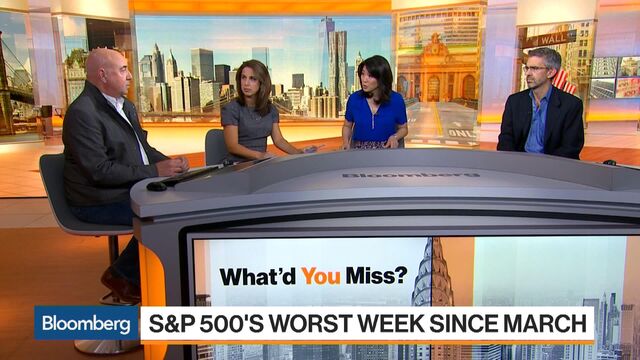 Start your day with what's moving markets in Asia. Sign up here to receive our newsletter.
U.S. stocks rose and volatility eased as markets showed signs of stabilizing after days of verbal sparring between the U.S. and North Korea. The dollar fell after American inflation remained subdued.
The S&P 500 Index rebounded from its worst day since May as a measure of calm returned to global equity markets roiled by tensions on the Korean peninsula. The latest reading on core prices showed a below-forecast rise, making it tougher for the central bank to stay on its tightening course. That pushed the greenback lower and boosted gold.
The calm on Friday wasn't enough to undo the damage done by the geopolitical confrontation that rattled markets all week. The S&P 500 had its worst period since March, European shares fell the most since Trump's election and the credit had its deepest slump in a year. While the CBOE Volatility Index slipped Friday, it's still higher by almost 50 percent in the week, the most since January 2016. Gold stood at a two-month high and the yen briefly pushed through 109 per dollar.

The week of angst continued a sobering pattern for financial markets in August, when volatility tends to rise even as many investors head for vacation. The latest saber rattling has some firms preparing contingencies for the weekend -- just in case, especially with little in the way of economic data or central bank action to focus on in the coming week.
Some big investors have been warning now would be a good time to reduce levels of risk in portfolios. Ray Dalio, who leads the world's largest hedge fund at Bridgewater Associates, recommends investors consider placing 5 percent to 10 percent of their assets in gold as a hedge against current political and economic risks.
Terminal users can read more in our Markets Live blog.
Here are the main moves in markets:
Stocks
The S&P 500 added 0.1 percent to 2,441.42 as of 4 p.m. in New York, paring its weekly slide to 1.4 percent, the most since March.
The Stoxx Europe 600 Index declined 1 percent, for five-day retreat of 2.7 percent, the most since Nov. 4.
The MSCI All-Country World Index was down 0.1 percent Friday and 1.5 percent in the week.
The CBOE Volatility Index lost 2.7 percent, after yesterday's 44 percent rise.
Currencies
The Bloomberg Dollar Spot Index fell 0.4 percent, sparked by the latest CPI report.
The euro jumped 0.5 percent to $1.1833. 
The British pound rose 0.3 percent to $1.3015. 
The Japanese yen increased 0.2 percent to 109.016 per dollar, the strongest in more than 15 weeks.
Bonds
The yield on 10-year Treasuries fell one basis point to 2.19 percent.
Germany's 10-year yield dipped three basis points to 0.382 percent, the lowest in almost six weeks.
Commodities
West Texas Intermediate crude rose 0.5 percent to settle Friday at $48.82 a barrel. The contract fell 1.5 percent in the week. 
Gold futures rose 0.5 percent to $1,296.80 an ounce, the strongest in two months. 
Asia
The MSCI Asia Pacific Index fell 0.8 percent and was headed for a 1.2 percent slide this week.
Australia's S&P/ASX 200 Index fell 1.2 percent at the close in Sydney. The Hang Seng Index in Hong Kong tumbled 2 percent and China's Shanghai Composite Index was down 1.6 percent.
South Korea's Kospi index lost 1.7 percent and volatility on the Kospi 200 surged as much as 27 percent. Japanese markets are closed for the Mountain Day public holiday.
— With assistance by Paul Dobson, and Eddie van der Walt
Before it's here, it's on the Bloomberg Terminal.
LEARN MORE