Technology
Dropbox Has Whipped Itself Into Shape, but Going Public Won't Be Easy
"Warren Buffett better be able to look at our business and say, 'This lemonade stand makes money.' "
By and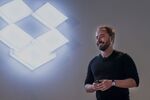 By 2015, eight years in, Dropbox Inc. had spread itself so thin that even staffers struggled to explain what the company did. It was also blowing cash like it was still a young startup, co-founder Drew Houston recalls: FedExing branded swag to colleges, developing standalone photo and email apps, paying mobile operators for deals that didn't bring in paying customers. Investors such as Fidelity Investments wrote down the value of their stakes. "We had strictly been focused on growth at all costs," says Houston, the chief executive officer. At a companywide meeting early last year, Houston asked several hundred attendees if they'd witnessed Dropbox spending money in ways they wouldn't use their own cash. Hands were raised; heads nodded. That's over, he told them.
The new priority? "Warren Buffett better be able to look at our business and say, 'This lemonade stand makes money,' " Houston says.
Today, Dropbox has an impressive 500 million users, including 200,000 businesses, storing and sharing files online through its cloud service. The service lets companies keep their documents in a commonly accessible place without having to build their own server farms. But Dropbox is also pitting itself even more directly against Google Inc. and Microsoft Corp. by pushing into the world of collaboration software that lets users work together to create a marketing campaign or sales pitch.
Houston must put doubts about his strategy to rest soon because he's preparing to file for an initial public offering and begin the requisite investor roadshow, people familiar with the company's plans say. It will likely be the biggest tech IPO since Snapchat parent Snap Inc.'s in March and almost certainly the biggest in the next 12 months.
Investor sentiment has improved this year. In January, Houston said annualized sales topped $1 billion. In April, Dropbox said it had cleared an investor benchmark by becoming profitable, excluding interest, taxes, depreciation, and amortization. The numbers look surprisingly good, says James Gellert, CEO of financial-ratings company RapidRatings International Inc., though Dropbox's IPO prospectus will present a fuller picture.
Market value remains the focus of the increased scrutiny. In 2014, when backers last invested, they agreed Dropbox was worth $10 billion. People familiar with the company's financials say it could top that mark in an IPO, but that may be a tough sell. Still, they say, annual revenue growth is enviable, about 30 percent. Dropbox declined to comment.
One of Houston's favorite books is Only the Paranoid Survive by Intel Corp. co-founder Andy Grove. He's taking seriously Grove's advice, borrowed from Mark Twain, to put all your eggs in one basket and watch that basket. Starting in 2015, Dropbox shut down the standalone photo and email apps to focus on its core product. It also slowed hiring and trimmed perks. Employees still eat free meals prepared by a chef who's worked for Michelin-starred restaurants.
Dropbox's biggest investment in the past couple of years has been in its own cloud. It's spent hundreds of millions of dollars to build data centers and mostly wean itself off Amazon.com Inc.'s servers, a rare feat for a software business with hundreds of millions of users. That's made it easier for Dropbox to cut costs while speeding file transfers, says Chief Operating Officer Dennis Woodside. "It cost the company a great deal of cash but demonstrates the maturity of the management team," says board member Bryan Schreier, a partner at venture firm Sequoia Capital.
Unlike rival Box, Dropbox has avoided hiring lots of salespeople to win the largest customers, so it relies more on smaller companies that begin with a self-service model. Free users get offers to become paying customers (receiving more storage space, security, and collaboration features) and to sign their colleagues up, too. The company says it runs about 700 tests a year to tailor its outreach for particular customers.
Dropbox's core file-sharing business is part of a still rapidly growing market, forecast to total almost $5.5 billion in 2020, says IDC analyst Terry Frazier. Like its rivals, Dropbox is also trying to colonize adjacent markets. Woodside says collaboration software will be the next major investment. So far, the company's main such product is Dropbox Paper, which customers can use to create documents and projects instead of just sharing existing ones. Paper has some slideshow features and may add spreadsheeting to become a fuller rival to Microsoft Office and Google's G Suite, Woodside says.
Given the long list of programs that purport to help workers collaborate, it's unclear whether the world needs another. Houston says he's trying to solve the fresh problems of time management that glut has created. "If Einstein were alive, he'd wake up tomorrow and spend the first couple of hours digging out his in-box and getting a bunch of Slack notifications," he says. "And we wouldn't have relativity."
Now Houston has to convince IPO investors, not to mention customers, that Dropbox knows the better way. And build it. "They are going into a space that's really competitive," IDC's Frazier says. "Paper is a good first step, but it's going to take a lot of work."
BOTTOM LINE -
Dropbox is making more money and turning a profit, but the company may not go public at its last private valuation as it invests further in battling Microsoft and Google.
Before it's here, it's on the Bloomberg Terminal.
LEARN MORE