U.S. Sanctions Mexican Soccer Star Rafael Marquez and 21 Others
By and
Treasury Department unveils penalties coordinated with Mexico

Marquez has played for Barcelona, Mexican national team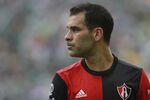 The Treasury Department accused Mexican soccer star Rafael Marquez of acting as a front for a major drug trafficker as part of an enforcement action hitting 22 Mexican nationals with sanctions that freeze their assets in the U.S.
The move was made in conjunction with the Mexican government following a multi-year investigation of a drug network allegedly run by Raul Flores Hernandez that has links to two major Mexican drug cartels, the Treasury Department said in a statement.
Flores Hernandez "has operated for decades because of his longstanding relationships with other drug cartels and his use of financial front persons to mask his investments of illegal drug proceeds," John E. Smith, director of Treasury's Office of Foreign Assets Control, said in a statement.
Marquez, 38, known as Rafa, is currently the captain of Atlas Futbol Club, a Guadalajara-based team where he debuted in 1996. He's played for the Barcelona soccer team and became the first Mexican player to win the UEFA Champions League. He's played on teams across North America and Europe during a successful career which has spanned more than a decade and is currently the captain of the national team.
For fans of the U.S. national team, Marquez is an arch-enemy. As recently as last November, he scored a game-winner for Mexico against the Americans in a World Cup qualifying match.
Marquez told reporters late Wednesday that he "categorically denied" any relationship to the "criminal organization" for which the Treasury Department accused him of acting as a front. He said he'll work with his lawyers to clarify the matter and is willing to cooperate with authorities as much as he can. "Today is my most difficult match," he said.
Earlier in the day, the Mexican Attorney General's Office known as PGR said Marquez had voluntarily showed up to give a statement. "The investigation is ongoing and we will continue working closely with U.S. authorities," the PGR said.
Mexico's Federal Soccer Association didn't immediately have a comment and calls to a soccer school run by Marquez went unanswered.
U.S. officials allege that Marquez and Mexican singer Julion Alvarez have longstanding relationships with Flores Hernandez and provided fronts for him and his drug organization.
Alvarez went on Facebook Live to stream a message to his fans saying he'd been informed of the action and blamed them on the "envy or jealousy" of others.
The Treasury action also targeted 42 entities in Mexico tied to the Flores Hernandez network, including a casino and a company that operates popular bars and restaurants in Guadalajara. The sanctions mean that any assets under U.S. jurisdiction are frozen and anyone in the U.S. is barred from engaging in any transactions with the people or entities named.
— With assistance by Benjamin Bain
Before it's here, it's on the Bloomberg Terminal.
LEARN MORE