markets
Long-Only Mutual Funds Have Turned Into the Stock Market's Daredevils
By
Net leverage at long-short funds reaches historic low

Overweight stocks this year are beating S&P 500 Index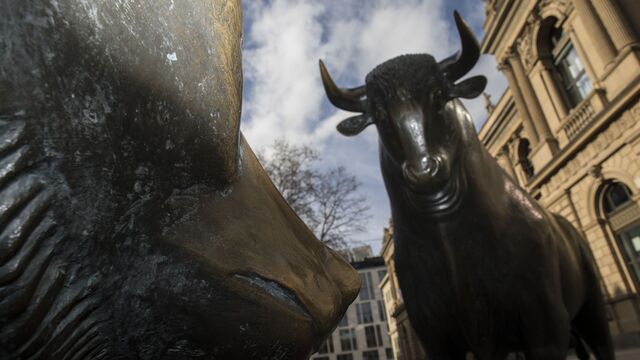 A yawning divide is opening between the stock market's biggest players when it comes to risk tolerance.
On one side are long-only mutual fund managers, burdened with keeping up with the S&P 500 as it marched to 30 different records this year. Measured by their ownership of stocks with the highest volatility, they're sitting on some of the most aggressive bets in three years, data from Morgan Stanley show.
On the opposite end are long-short hedge funds, paid as much to dodge bear markets as they are to pile on gains. Using a value known as net leverage that counts up bets that shares will rise, they're plumbing depths of defensiveness rarely seen since 2005.
A divergence this wide has occurred just twice in the last decade, the data show.
"This has been a very low-vol, relentless rally and passive investments are putting pressure on the business model," Mike Wilson, chief equity strategist at Morgan Stanley, said by phone. "The pressure is greater on long-only managers when the market is going up, no question about it."

Mutual fund exposure to the S&P 500 the past three months was higher than 90 percent of the time since 2014, according to the Morgan Stanley data. Net leverage at long-short funds, on the other hand, is near historic lows -- in the 17th percentile since 2005.
With the deluge of money that's pouring into hands-off investing strategies like exchange-traded funds, there's more at stake for money managers. The withdrawal of cash from active managers is such that cumulative fund flows between mutual and exchange-traded funds is negative over the duration of the bull market.
To one mutual fund manager, high levels of exposure across the industry mean more selling in the event of a market downturn. Frequent changes to a fund's beta is an inherently difficult style to manage, said Connor Browne, portfolio manager at Thornburg Investment Management. 
His long-short fund has a beta of 0.4 to the market over the past five years, he said. That compares to 1.1 for the overall industry as surveyed by Morgan Stanley.
"The active managers that have high beta to the stocks that have received all the passive flows into indexes will be flattered now, but when flows come out of passive when the market goes down, it spells even more potential shakiness if a selloff begins," he said.
At least for now, the decision by managers to overweight the stock market is paying off. The top 50 favorite stocks by mutual fund managers are up 18 percent so far this year, compared with an 8 percent gain in companies that managers are underweight, according to Goldman Sachs data.
Before it's here, it's on the Bloomberg Terminal.
LEARN MORE