markets
Rand Goes From Best Performer to Laggard as Zuma Wins Vote
By and
Implied volatility is still the highest among major currencies

Downside limited as vote result priced in: Commerzbank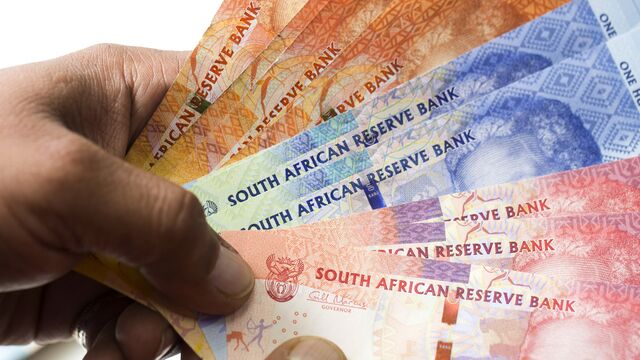 The South African rand fell for a second day against the dollar after President Jacob Zuma survived a no-confidence vote that could have brought an end to his administration.
The decline marks a swift turnaround for the rand, which was the best-performing major currency on Monday as the secret ballot was announced. It saw the single biggest losses among Eastern European and African currencies on Wednesday. Despite the abrupt change in fortunes, the result is unlikely to be a trigger for excessive currency weakness as the defeat of the motion was largely priced in beforehand, according to Commerzbank AG.

The vote "can hardly be expected to be a 'shocker' for any market participant," currency strategist Ulrich Leuchtmann wrote in a note to clients. Going forward, any policy mistakes "would have to be big to have any market impact – as everybody who currently holds long-ZAR positions should be prepared for some volatile political news flow," he wrote.
The rand declined 0.7 percent to 13.4687 per dollar as of 12:09 p.m. London time after sliding 1.1 percent on Tuesday. South African 10-year bond yields were little-changed at 8.57 percent.
Elevated Volatility
The rand's one-month implied volatility -- a gauge of expected swings in the currency -- now stands above 15 percent, the highest among the global major exchange rates tracked by Bloomberg. The currency strengthened almost 13 percent last year after plunging a combined 57 percent in the five years earlier.
Under Zuma, who has led the country since May 2009, South Africa has slipped into recession and has seen unemployment rise to a 14-year high. The next Presidential vote is slated for 2019, for which Zuma may try to appoint a successor of his choice.
"The question of the succession is really what we would want to know because South Africa is, after all, a country that has significant structural issues from the fiscal side," Geraldine Sundstrom, a portfolio manager at Pimco LLC, told Bloomberg Television. 
There are other issues of concern for analysts as well. Here's is a compilation of views:
ING Groep NV
"While we think USD/ZAR should be trading near 12.00 based on long-term fair value and the currently benign external conditions, we suspect Zuma's survival will maintain a political risk premium in the ZAR," ING Groep NV global head of strategy Chris Turner writes in a note to clients

More likely to trade in a 13.00-13.50 range, rather than heading to fair value

There are concerns over whether debt will be downgraded further by S&P and Moody's; "A shift to junk status for the local currency ratings from both agencies would take South African government bonds out of key international benchmarks such as the WGBI and Barclays Global Aggregate, prompting ZAR outflows as much as 2.5% of GDP (around $8b), according to the IMF"
Societe Generale SA
"The outlook for ZAR reverts to one dominated by near-term threats both on domestic politics as well as by the unfavorable external environment of geopolitical tensions," writes strategist Phoenix Kalen in emailed comments
Levels close to 14.00 would be attractive

"It is attractive already were it not for the geopolitical concerns on North Korea," referring to escalating tensions with the U.S.
Citigroup Inc.
South African "assets and South African dollar bonds may well start a 'weak run' until the nation's budget in October," writes strategist Luis Costa in emailed comments

"The case for further creditworthiness deterioration in sovereign risk may go through a phase of revival"

"Global and local headwinds could keep the ZAR on the backfoot over the next few months, and while SAGBs might remain relatively sticky over this period, it is difficult to get too excited about the curve," analysts Gina Schoeman and Adriaan du Toit write
Toronto-Dominion Bank
"Above 13.63 the rand would look weak vs our political outlook for South Africa, based on the assumption that Zuma stays in power another four to six months," strategist Christian Maggio writes in emailed comments
Nomura International Plc
"The rand can grind weaker from here," strategist Peter Attard Montalto says in a telephone call

Zuma "has the momentum going into the December conference," referring to the ruling African National Congress' gathering, which could see him successfully back a successor
— With assistance by Francine Lacqua, and Paul Wallace
(
Updates with comments from Nomura and bond prices.
)
Before it's here, it's on the Bloomberg Terminal.
LEARN MORE