Poland's Duda Risks New Tensions With Ruling Party Over Army
By
President wants decisive voice over army command, expert says

Opposition says conflict between Duda and Law & Justice grows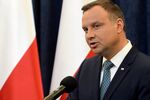 Polish President Andrzej Duda, who fell out with the ruling party last month over judicial reform, risked escalating tension by blocking army appointments proposed by the NATO member's government.
Duda refused to sign off on the appointments of dozens of generals because of a lack of clarity over the proposed new system of command, according to Marcin Skowron, a spokesman for the National Security Bureau, which supports the president in his constitutional defense duties. Skowron couldn't confirm on Wednesday the number of blocked appointments, which Polish media put at 46. The new generals were set to replace top brass removed by Defense Minister Antoni Macierewicz.
Duda's decision follows his partial veto in July of government court overhauls amid nationwide street protests and warnings from the European Union and U.S. over risks to democracy. That move took the ruling Law & Justice party, which backed Duda's successful campaign for the presidency, by surprise. The spat over the army comes as Poland and its neighbors host more troops from the North Atlantic Treaty Organization's western members to deter what they say is Russian meddling.
"Duda showed that he wants to have a decisive voice in the reform of the top command," said Marek Swierczynski, senior analyst for security affairs at Polityka Insight, a Warsaw-based think thank. "It's yet another battle between the ministry and the president, with Poland's security at stake, which at this stage may require a political intervention from the top of the ruling camp."
Duda and Macierewicz have been at odds for months over a new command system for the armed forces. In June, Macierewicz blocked a presidential aide's access to classified information. The generals were set to take their positions Aug. 15, when Poland's army celebrates its main holiday.
The president's decision doesn't imply there's a conflict between Duda and Macierewicz, according to a statement by head of presidential chancellery Halina Szymanska. Proposed changes to the system of the unified command, including key personnel decisions, are aimed at adjusting the army to new challenges and are being consulted with the president, said Anna Peziol-Wojtowicz, spokeswoman at the Defense Ministry.
Since Macierewicz took over the Defense Ministry, 90 percent of the General Staff's leadership and more than 80 percent of the army's top brass has left.
Before it's here, it's on the Bloomberg Terminal.
LEARN MORE