quicktake
Merkel's Election Challenges This Time Around: QuickTake Q&A
By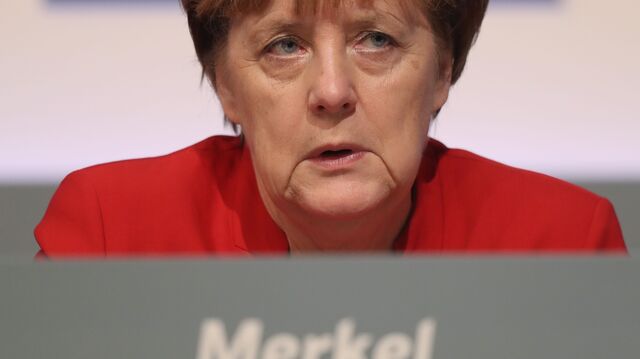 Follow @bpolitics for all the latest news, and sign up for our daily Balance of Power newsletter.
Angela Merkel, Germany's first woman chancellor and its first from the communist east, is seeking to make history with her bid to win a record-tying fourth term in elections on Sept. 24. While polls suggest the vote is unlikely to have the drama of the French election in May, there's potentially even more at stake: Merkel, the continent's longest-serving leader, has become the face of the European Union in confronting challenges including Brexit, Russia and disagreements with U.S. President Donald Trump.
1. Does Merkel face a serious challenge?
When party members boast with confidence that she is heading for victory, she cautions them against complacency. The main challenger to Merkel's Christian Democratic Union (CDU) party is the Social Democratic Party (SPD), her current coalition partner. In March, the SPD jumped to nearly even in the polls with Merkel's bloc -- the CDU and its Bavarian ally, the Christian Social Union (CSU) -- after choosing Martin Schulz, a former president of the European parliament, as its candidate. But the Social Democrats have fallen back and trail Merkel's CDU-CSU by an average of about 15 percentage points in polls.
2. Does Merkel have a weak spot?
Her popularity took its biggest hit after Germany opened its borders to a record number of refugees, primarily from Syria, in the summer of 2015. Her welcoming policy -- 1.3 million refugees have arrived in the country since then -- drove some voters into the arms of the nationalist Alternative for Germany. A spat with Bavaria's CSU about tighter border controls added to what turned into the biggest leadership crisis of Merkel's 12-year chancellorship. Support for the far-right party has ebbed along with the refugee influx, allowing Merkel to rebound. While 44 percent identified immigration as a major problem in a poll in July, the same survey put her approval rating at 69 percent, the highest since May 2015.
3. What risks does she face?
In 2015, criminals breached the network of the German parliament, stealing emails and 16 gigabytes of data. The attacks have been linked to Pawn Storm, a group with suspected ties to Russian intelligence agencies. Campaign managers are wary that Russia might try to disrupt the September vote with last-minute leaks or hacks. Merkel backers also worry about the possibility of a terrorist attack before the election. While Merkel, 63, is widely perceived as an anchor of stability in times of crisis, a violent attack, especially one linked to refugees, could undermine her bloc's unity and swing public opinion toward blaming the incumbent government for security failures. Even if the CDU-CSU wins the most votes, coalition talks are likely to be more complex than after the last election in 2013.
4. What are the coalition options?
Many and varied -- making the government constellation the great unknown of this election. In her three coalitions to date, Merkel has tended to pursue her own agenda regardless of her governing ally, gaining the credit for popular policies while spreading the blame for perceived failings. Her second-term partner, the Free Democrats, was so worn down that it failed to win any seats four years ago; the SPD, with which she governed in her first and third terms is wary of repeating their "grand coalition." Some in her party would like to ally with the Greens, while Schulz's best chance to win power would be an alliance between his SPD, the Greens and the anti-capitalist Left party.
5. If Merkel wins, what will change? 
Not all that much. A Merkel victory would be seen as reinforcing what Germany already stands for: the defense of EU unity and Germany's export-led growth model. She'll back German industry, including the carmakers that help drive the nation's trade surplus, and promote digital innovation in the economy. As the U.K. negotiates the terms of its EU withdrawal, she and Emmanuel Macron are looking to strengthen German-French cooperation on economic and security policy. She's likely to keep U.S. ties as close as possible while upholding free trade, exports and global action against climate change, all of which divide her and Trump. A quick easing of EU economic sanctions on Russia will be unlikely, leaving President Vladimir Putin to face Merkel's realpolitik mix of firmness and diplomatic engagement. Domestically, Merkel is dangling a modest income-tax cut and pledging more funding for education and research to make the economy fit for the future and secure jobs.
6. Will there be a Trump effect on the election?

The U.S. president is deeply unpopular in Germany, which he has blamed for all sorts of ills. It's hard to say whether Merkel or the Social Democrats can best capitalize on that. Merkel supporters say Germans trust Merkel's crisis management when global politics turns turbulent; Social Democrats say the Trump effect helps them because they're traditionally known for challenging America-comes-first policies. This much is clear: Polls suggest that Trump's unpredictability is enforcing stability in Germany by strengthening the center parties while weakening the extreme right and left.
7. Should Merkel's lead in polls be trusted?
German pollsters have generally come close in forecasting election outcomes. Among the leading institutes, Berlin-based Forsa and the Allensbach institute, which conducts surveys for the Frankfurter Allgemeine Zeitung newspaper, provided on average the most accurate forecasts of the national election result in 2009 and 2013. Forsa and Allensbach broadly agree with the other national polls on the size of the lead held by Merkel's bloc over the SPD. There are caveats: When Merkel first ran for chancellor in 2005, all major pollsters overshot her margin of victory over SPD incumbent Gerhard Schroeder.
The Reference Shelf
Before it's here, it's on the Bloomberg Terminal.
LEARN MORE