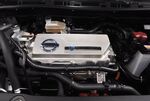 GSR Capital must be hoping it's fourth-time lucky. Having failed in its pursuit of three lighting companies since the start of last year, the Chinese private-equity firm looks to have made a smart move by agreeing to acquire Nissan Motor Co.'s battery business -- provided it gets the nod from U.S. regulators.
The investment company is paying about $1 billion for Automotive Energy Supply Corp., Bloomberg News's Jonathan Browning and Ma Jie reported on Tuesday, citing a person with knowledge of the matter. The unit makes the lithium-ion cells that power Nissan's Leaf electric car and has a plant in Tennessee.
GSR, which is awaiting approval from the Committee on Foreign Investment in the U.S., or CFIUS, should keep its fingers crossed. The firm was rejected by the security panel when it tried to buy Royal Philips NV's Lumileds unit last year, and has been disappointed in its efforts to buy another lighting business owned by the Dutch company as well as Germany's Osram Licht AG.
The deal would put the battery supplier for one of the world's best-selling electric vehicles into Chinese hands and give GSR the scale to compete in a home market that's poised for significant growth. At the same time, it would enable Nissan to exit a business it set up with NEC Corp. in 2007 and has long wanted to quit.

Under a Chinese owner, Automotive Energy Supply could grow a lot faster. Already the world's largest electric-vehicle market, China aims to make all vehicles partly or fully electric in coming years. Chinese carmakers dominate EV sales globally, thanks to their edge at home.

To keep that lead, the country is becoming increasingly protectionist about who makes the all-important batteries that go into electric vehicles. Beijing now requires automakers to choose from a list of domestic battery vendors if they want subsidies, a stipulation that will hurt South Korean and Japanese manufacturers including Panasonic Corp., which supplies Tesla Inc. 
GSR, run by former Nortel Networks Corp. executives, already backs lithium-ion battery maker Boston Power. Combining that business with the Nissan unit could strengthen the firm's hand in China, where there is a plethora of small battery makers as well as bigger players owned by carmakers such as BYD Co.
The private-equity firm has funding from the government of Hubei province. That's a link that can only help: The province is spending billions of dollars on clean energy projects and is also home to one of China's biggest carmakers, Dongfeng Motor Group Co. 
Admittedly, the EV battery business is highly competitive and GSR could do with controlling more of the electric car supply chain. It owns a stake in Chinese electric-car maker Xin Da Yang, though this isn't among the industry's major players.
Ultimately, though, being Chinese and betting on electric-car demand in the nation looks like a strong combination (witness Tesla's plans to manufacture in the mainland).
GSR just has to hope that its China edge doesn't cost it U.S. approval.
Before it's here, it's on the Bloomberg Terminal.
LEARN MORE