France's Philippe Says Priority for 2018 Is Cutting Taxes
By
Government holds last cabinet meeting before break Wednesday

Philippe seeks to bring 2018 budget deficit below 3 percent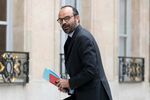 France's 2018 budget will focus on cutting taxes to boost economic activity as the government seeks to cement its support among the business community, Prime Minister Edouard Philippe said.
Preparing for the last cabinet meeting before the summer break, Philippe told RTL Radio on Wednesday he wants to lower levies that "hurt the competitiveness of our country." Government ministries this week received letters setting out their spending limits for 2018.
President Emmanuel Macron is seeking cuts of 20 billion euros ($23 billion) and tax reductions of 11 billion euros next year to bring France's budget deficit down to 2.7 percent of economic output. That would be the first time since 2007 the shortfall has been below the 3 percent limit set by the European Union. Philippe wouldn't say in the interview where the spending cuts would fall, though in the past he's said spending on housing and on subsidized jobs has been particularly misplaced.
"We have to get out of the spiral of public spending," government spokesman Christophe Castaner said in a separate interview on France Inter. "France has been addicted to ever increasing spending, paid for by taxes."
Macron is trying to take advantage of economic tailwinds to push through reforms that he says will make the expansion more sustainable. The Bank of France said Wednesday that its manufacturing confidence index rose to 105 in July from 103 in June, beating economists' forecasts. The central bank also said the economy could grow 0.5 percent this quarter, matching the pace of the last three months and higher than the 0.4 percent median projection in a Bloomberg survey.
Union Protests
Philippe reiterated that the government will introduce a flat tax on earnings from capital, and transform France's wealth tax into a real-estate tax. The government is also planning to cut payroll taxes and start rolling back a housing tax.
The 2018 budget will be presented late September, Castaner told reporters after Wednesday's cabinet meeting. "It will be a budget of transformation, not adjustment," he said. "It won't make a cut here, and increase there. It will map out the priorities of this government."
The government struggled last month to find 4.5 billion euros in spending cuts to keep the 2017 deficit from overshooting its target, with the head of armed forces quitting after he was castigated by Macron for speaking out about cuts to the military budget.
That and other incidents have led to a decline in Macron's popularity. His approval rating fell to 54 percent in July from 64 percent in June, according to Ifop. Other pollsters have also recorded declines, though not as steep.
France's second-largest union, the CGT, is planning a day of protests Sept. 12 against the government's policies, and defeated presidential candidate Jean-Luc Melenchon is calling for demonstrations on Sept. 23.
"They can protest , but I think the French want us to shake things up," Castaner said.
The cabinet will meet next on Aug. 28 for a "seminar," then hold its first formal meeting Aug. 30, and on Aug. 31 the government will unveil decrees aimed at liberalizing French labor law. Macron will take a few days of vacation at an undisclosed location in France, Castaner said.
Parliament will this afternoon vote to approve a widely supported law on the "moralization of politics" that will ban lawmakers from hiring family members, and will abolish special funds available to members of parliament to subsidize local associations.
Before it's here, it's on the Bloomberg Terminal.
LEARN MORE