business
China Factory Inflation Holds Up on Steady Demand, Capacity Cuts
Bloomberg News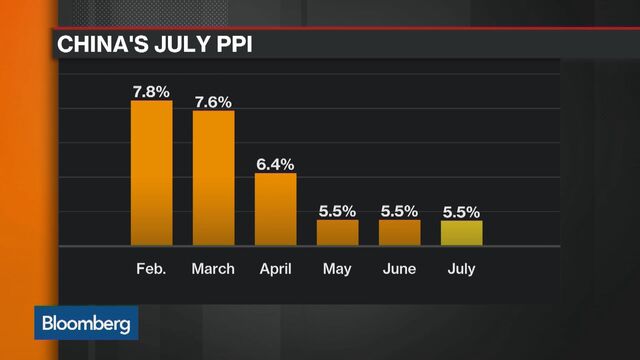 China's producer price gains held steady on surging commodity prices, as demand stayed resilient and the government's drive to reduce industrial capacity takes hold.
Key Points
Producer price index rose 5.5 percent in July from year earlier versus estimated 5.6 percent in Bloomberg survey
The consumer price index increased 1.4 percent, versus forecast of 1.5 percent and way below the government ceiling of 3 percent
Big Picture
Soaring prices of commodities such as coal, steel and cement extended a sweet spot for industrial firms, which have enjoyed solid profits and, through China's massive supply chains, have underpinned global reflation since last year. The government's drive to reduce industrial capacity capped supply of raw materials while demand from property and infrastructure projects has held up so far.

Economist Takeaways
Month-on-month producer price-growth turned positive from previous declines on the back of steel and nonferrous metal price rebounds, according to a statement by the NBS. Half of the 40 industrial sectors being surveyed have seen price gains in July, nine sectors more than the previous month, it said.
"With policy tightening now weighing on economic activity, underlying inflation has already begun to decline," said Julian Evans-Pritchard, a China economist at Capital Economics Ltd. in Singapore. "With growth likely to slow further in the coming quarters, we think the pick-up in price pressures witnessed during the past year will continue to unwind."
"The rise in PPI suggests that corporate profitability should continue improving in the coming months, especially for upstream industries," said David Qu, a Shanghai-based market economist at Australia & New Zealand Banking Group Ltd. "With the authorities' strong determination for capacity reduction, it should continue to support the PPI" though the base effect still forms downward pressure year-on-year, he said.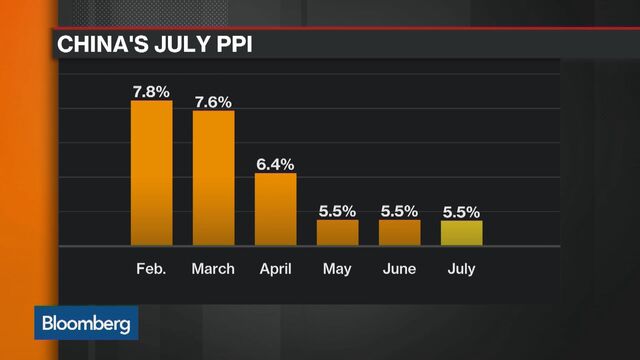 "Demand in China and the world will moderate in the second half, " said Carol Liao, an economist at JPMorgan Chase & Co. in Hong Kong, adding that consumer spending will drive the global economy for the rest of this year, which is less supportive to commodity prices than investment. "The commodity price surge is a short-term rebound and will face downward pressure."
"It's a sweet spot in terms of inflation," Julia Wang, an economist at HSBC Holdings Plc in Hong Kong, said in a Bloomberg Television interview.
The Details
Food prices fell 1.1 percent from a year earlier after a 1.2 percent decline in June
July non-food year-on-year inflation rate slows to 2 percent from 2.2 percent
— With assistance by Xiaoqing Pi, Kevin Hamlin, Yinan Zhao, and Miao Han
Before it's here, it's on the Bloomberg Terminal.
LEARN MORE