BOE Tightens Up Its Conflicts Procedures After Hogg Controversy
By
Carney says any percieved deficiencies must be addressed

Bank to appoint executive to manage issues, improve processes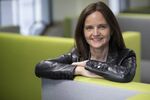 The Bank of England will strengthen its conflict-of-interest checks as part of its response to the controversy surrounding the resignation of former Deputy Governor Charlotte Hogg after just weeks in the role.
Clarity about conflict-approval processes will be improved after a review found ambiguities in BOE policies as well as shortcomings in its systems that heightened the risk of inadvertent non-disclosure by its staff. The central bank will also appoint one of its senior executives as a Conflicts Officer to take responsibility for updating procedures and plugging gaps.
Hogg's failure to disclose her brother's role at Barclays Plc, an institution she would have helped supervise as deputy governor for markets and banking, led to renewed criticisms of the BOE's appointment procedures for senior staff and prompted the review by the non-executive directors of the BOE's Court of Directors.
Governor Mark Carney said the recommendations will be "implemented in full."
It's "important to address any actual or perceived deficiencies in our approach to managing conflicts of interest," he said in a statement issued alongside the report, adding that the review will give "greater clarity" to staff on what was expected.
In addition to the appointment of a Conflicts Officer, the report recommended that reporting requirements for personal relationships should be clarified. The review found they were at risk of misinterpretation, leading individuals mistakenly to believe they were compliant.
Hogg, who was also chief operating officer of the BOE, described the omission of her family ties as an "honest mistake" and said she had never breached any confidence. However, in her resignation letter in March, she said she recognized her failure could threaten public trust in the BOE.
A report from Parliament's Treasury Committee at the time found that Hogg's "professional competence falls short of the very high standards required."
The central bank said a number of improvements to pre-appointment conflict checks had already been made since Hogg's resignation. These changes would be made permanent, it said.
Hogg was not the first BOE figure to face criticism over conflicts of interest. Monetary Policy Committee appointee Gertjan Vlieghe was pressured to cut ties with Brevan Howard Asset management in 2015 because of a possible conflict. In 2013, concerns over the appointment of Financial Policy Committee member Clara Furse prompted lawmakers to investigate the BOE's appointment process.
Before it's here, it's on the Bloomberg Terminal.
LEARN MORE