markets
The Bank of England, 1914 War Loans and a Patriotic Cover-Up
By
Poor demand for War Loan in 1914 saw BOE to plug gap

Disclosure of failed fundraising would have been 'disastrous'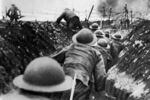 The Bank of England secretly plugged a multi-million-pound hole in Britain's finances during World War I, covering up the failure of one country's apparent patriotic triumphs.
In the early days of the war in 1914, the government sought to raise 350 million pounds -- about 38 billion pounds today -- through the issuance of a War Loans, with 250 million pounds of that coming directly from the public. The sale was heralded as a great success by the government and the press, with the reported over-subscription being hailed as a sign of patriotic fervor among the British people.
But as Michael Anson, who works in the central bank's archive, along with Norma Cohen, Alastair Owens and Daniel Todman from Queen Mary University of London, lay out in a Bank Underground blog just published, the loan was in fact a spectacular failure, with only some creative accounting from the BOE preventing a financial, and a propaganda, disaster.
Analysis of the ledgers of investors who purchased the 3.5 percent War Loan showed that public demand only amounted to 91.1 million pounds, a fact that, if disclosed, would have been "disastrous," according to John Osborne, a part-time secretary to Governor Montagu Norman, writing in 1926.
Instead, BOE officials hatched a plan to cover up the shortfall, with the Chief Cashier Gordon Nairn, and his deputy, Ernest Harvey, buying the securities in their own names. The bonds were then held by the BOE. 
The deception was hidden by classifying the holdings as "Other Securities" on the bank's balance sheet rather than as holdings of Government Securities -- a plan which John Maynard Keynes called a "masterful manipulation" in a secret 1915 memo to the Treasury.
To the oblivious public, the sale was painted as nothing but a success. The Financial Times reported on Nov. 23, 1914, that the loan had been over-subscribed by 250 million pounds, and "still the applications are pouring in." For their part, government officials realized that patriotism alone was not enough to sell a bond, and upped the interest rates on future offerings.
The huge War Loan of 1917 raised 2 billion pounds by offering a generous return of 5.4 percent.
Before it's here, it's on the Bloomberg Terminal.
LEARN MORE