Poland Ramps Up Case for World War II Reparations From Germany
By
Minister says Poles were 'massacred' but not compensated

Parliamentiary body to assess whether claim can be made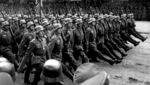 Poland's ruling officials are stepping up calls to demand compensation from Germany for damages caused in World War II, potentially deepening a divide between the European Union's largest eastern member and the bloc's biggest economy.
Deputy Prime Minister Mateusz Morawiecki lamented that Poland was "massacred" by the country's neighbor in the war, echoing recent statements by Defense Minister Antoni Macierewicz and ruling party leader Jaroslaw Kaczynski. Last month, the latter linked the Nazi invasion to Poland's moral right to aid from the EU, which is weighing potential sanctions against Poland for flouting the bloc's standards on democracy and the rule of law.
"The historic bills have not been settled, that's obvious," Morawiecki told reporters on Tuesday in Warsaw. "That's a separate chapter from the present day economic life, and I believe that our partners in Germany understand that."
A lawmaker from Kaczynski's Law & Justice Party asked last week for a parliamentary analysis on whether Poland has grounds to seek damages from Germany. Such a claim may pit the country of 38 million against its biggest economic partner, as trade with Germany amounts to more than $100 billion a year -- more than a quarter of imports and exports and more than the next five countries combined. It also underscores a growing trend in which some EU members, including Hungary, are pursuing national interests in ways that are creating tensions with other states.
Between the collapse of communism in 1989 and 2004 when Poland joined the EU, subsequent governments declared the issue of war reparations from Germany closed, based on a declaration of the 1953 communist administration in Warsaw and treaties from 1970 and 1990 with Germany.
'Anti-German Card'
According to Anna Materska-Sosnowska, a political scientist at Warsaw University, one reason that the government is reopening the question may be to demonstrate it isn't intimidated by the EU's criticism for democratic backsliding. The bloc has opened an unprecedented probe into Poland over the rule-of-law that's centered around a government push to strip the judiciary of its independence by giving politicians greater control over the courts.
"This is catering to domestic political demand and is meant to cover other issues and show that Poland's isn't scared of anyone, even Germany," she said. "If this was about real negotiations, the political language would be different. The anti-German card has been in use quite often."
Polish estimates of the damage the country suffered are in the hundreds of billions of dollars, with a government figure from 1945-47 putting material losses at $850 billion, not including human losses. In 2004, Kaczynski's late twin brother Lech, as mayor of Warsaw, put the damages to the capital city alone at $45.3 billion. Poland is the biggest net beneficiary of the bloc's 140 billion-euro ($164 billion) annual budget, having been granted more than 250 billion euros since entry.
"Our neighbors, specifically the Germans, have massacred Poland," Morawiecki said in other comments late on Monday. "I'm not only talking about the 6 million Polish lives that were taken. Not even 1 percent of that has been compensated."
Before it's here, it's on the Bloomberg Terminal.
LEARN MORE