North Korea Rebuffs Nuclear Talks, Says U.S. to 'Pay Dearly'
By , , and
North, South Korean envoys meet briefly at security forum

Tillerson calls for North to halt further missile launches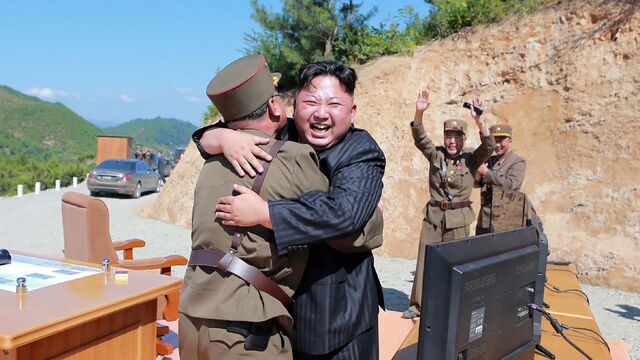 North Korea condemned the latest round of United Nations sanctions and reiterated that it wouldn't negotiate over its nuclear program until the U.S. ceases "hostile" policies.
Kim Jong Un's regime said it will "make the U.S. pay dearly for all the heinous crime it commits against the state and people of this country," the Korean Central News Agency reported on Monday. In a separate statement to reporters in Manila, North Korea called President Donald Trump's "America First" policy dangerous and said its nuclear program was necessary to avoid a U.S. invasion similar to those in Afghanistan, Iraq and Libya.
"We will, under no circumstances, put the nukes and ballistic rockets on negotiating table," North Korea said. "Neither shall we flinch even an inch from the road to bolstering up the nuclear forces chosen by ourselves, unless the hostile policy and nuclear threat of the U.S. against the DPRK are fundamentally eliminated."
The response shows that tensions are showing no signs of abating after the UN Security Council on Saturday unanimously approved measures to restrict North Korea's exports of coal, iron, lead and seafood. Trump's administration has threatened military action if necessary to stop North Korea from obtaining an intercontinental ballistic missile that can strike the U.S. with a nuclear weapon.
Trump posted a message on Twitter on Tuesday in the U.S. applauding the UN's action. "After many years of failure,countries are coming together to finally address the dangers posed by North Korea. We must be tough & decisive!" he wrote.
Trump, whose administration is moving to crack down on leaks of U.S. government information, also retweeted a Fox News report based on anonymous sources that said U.S. spy satellites had detected North Korea moving anti-ship cruise missiles to a patrol boat.
Trump's options on North Korea: Quicktake Q&A
China, North Korea's biggest ally and trade partner, backed the sanctions in a bid to spur dialogue. It has urged North Korea to halt future ballistic missile and nuclear tests, while also calling on the U.S. and South Korea to cease military exercises.

"North Korea's response is expected, because they have their own position," Chinese Foreign Minister Wang Yi told reporters in Manila on Monday night. "The key is that we cannot let the situation to continue to escalate, and we need to find an opportunity to turn things around amid the crisis."
READ MORE: Why sanctions are unlikely to stop North Korea
The KCNA report came as diplomats in Asia stepped up efforts to get North Korea to resume dialogue during a regional security meeting in the Philippines. Foreign ministers from China, Russia, South Korea and Japan all spoke with their North Korean counterpart Ri Yong Ho in Manila.
"North Korea should realize that it will face stronger sanctions and pressure if it doesn't stop nuclear and missile provocation," Moon Sang-gyun, a spokesman for South Korea's defense ministry, said on Tuesday in response to North Korea's statement. "We urge North Korea to make the right choice and come to the path of denuclearization."
South Korean Foreign Minister Kang Kyung-wha urged Ri on Sunday to respond as soon as possible to an offer to resume talks between the two countries, Yonhap News Agency reported, citing an unidentified foreign ministry official from Seoul. Ri said the offer "lacks sincerity," according to the unnamed official.

"It's a positive but very small step, and can at least help the two Koreas exchange some views on the current state of affairs," Kim Jin-ho, a professor of political science at Dankook University in South Korea, said of the meeting between foreign ministers. "North Korea would use the talk as a bargaining chip with the U.S., as their goal is to have dialogue with Washington, not Seoul."
In a phone call on Monday, South Korean President Moon Jae-in told Trump that North Korean issues must be resolved peacefully and diplomatically. He said the countries needed to show Pyongyang that the door to dialogue was open if North Korea gave up its nuclear weapons and missile programs, according to a Moon spokesman.

Secretary of State Rex Tillerson, who is attending the security forum in Manila, said Monday that the best signal North Korea could give that it's ready for talks with the U.S. was to halt missile launches, the Associated Press reported.
"We're not going to give someone a specific number of days or weeks," Tillerson said. "This is really about the spirit of these talks."
Joint discussions between six nations -- China, Japan, North Korea, South Korea, Russia and the U.S. -- collapsed in 2009.
Moon, who took office in May, has advocated engaging Pyongyang with dialogue and offered to hold rare military talks with the North to ease tensions after Kim's first successful ICBM test July 4.
North Korea is likely to continue pursuing ballistic missile tests at its current pace of about every three to four weeks despite the sanctions, according to John Park, director of the Korea Working Group at Harvard Kennedy School. He called the sanctions "too little, too late" to cut off financing for the nuclear program.
"The North Korean program remains an unconstrained one with neither sanctions nor an operational diplomatic agreement holding it back," Park said.
— With assistance by Chelsea Mes, Ting Shi, and Hooyeon Kim
Before it's here, it's on the Bloomberg Terminal.
LEARN MORE