quicktake
The Political Comeback That Could Change Everything in Argentina
By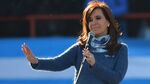 Follow @bpolitics for all the latest news, and sign up for our daily Balance of Power newsletter.
Since Argentine ex-President Cristina Fernandez de Kirchner announced June 24 that she would be attempting a political comeback by running for a senate seat in elections Oct. 22, the country's currency has weakened more than any other in emerging markets and its borrowing costs have begun to rise again. That reflects the jitters investors have about a return to Fernandez's protectionist policies, which President Mauricio Macri is slowly unwinding after scoring a surprise victory over her alliance's candidate in 2015. So-far cautious investors have been looking to the mid-term elections to gauge public appetite for Macri's center-right policies. Voters go the polls first on Aug. 13 in a widely anticipated primary election.
1. Why are the Aug. 13 primaries so important?
In Argentina's primary system, all candidates from all parties or blocs are on the ballot against each other in each voting district. Voters can choose anyone, regardless of their party registration. The candidate who scores the highest votes from each party becomes that party's candidate for the actual election. But because most candidates, including Fernandez, are running unopposed within their party, the primary effectively becomes an unofficial first round or giant poll, providing a strong indication of who the eventual winner will be.
2. What's at stake in the election?
A defeat for Macri's Cambiemos coalition has the potential to curtail or derail his push to deregulate what's been ranked as the fourth most protectionist economy among G20 countries. A good showing by Fernandez could set her up to stage another run at the presidency in 2019. Victory for Marci, on the other hand, would embolden him to push on with plans to simplify the tax code and reduce labor costs. It would also make him the favorite to win a second term in 2019.
3. How will the winner be judged?
A third of the seats in the senate -- 24 of 72 -- and half those in the lower house -- 127 of 257 -- are up for grabs. Today, no bloc has a majority in either chamber. The opposition Peronist bloc, to which Fernandez belongs, has the most seats in the senate, and Cambiemos has the most in the lower house. Polls suggest no party will gain a majority in the senate, and it's statistically impossible in the lower house. So the election outcome will be judged by nominal gains and the results of specific, high-profile races.
4. Like what?
The main focus is on the battle for senate seats in Buenos Aires province between Fernandez and Macri's candidate, former Education Minister Esteban Bullrich. Polls give Fernandez a lead of about 5 percentage points. Macri's alliance is poised to do well in the rest of the country. Brokerage TPCG estimates it will gain 7 seats in the senate and that the Peronists will lose three. In the lower house, TPCG thinks Cambiemos will gain 16 seats to solidify its position as the largest party. 
5. What can we expect if Macri wins?
Macri will see a victory as a green light to push ahead with reforms, which include an overhaul of the bloated and inefficient tax system, a push to negotiate with unions to reduce labor costs and a cut in spending to close a worryingly wide fiscal deficit. 
6. What if he loses?
The opposition is likely to take such a result as a sign of discontent with his reforms and will be far less inclined to go along with them. Macri may find that the best he can hope for is to limp to the finishing line in 2019 -- an achievement in itself given that no non-Peronist president has finished a term in office since 1946. If it's only a small margin of defeat, Macri may still have room to push through some of his projects, but the Peronist bloc will demand a heavy price in exchange.
7. What would it mean for Fernandez?

It would revitalize her flagging career and bolster her chances of reclaiming leadership of the splintered Peronist movement. She would become a thorn in the side of the government and its most vociferous opponent in the legislature. The possibility that she could reclaim the presidency in 2019 would make markets uncertain. Pollsters, however, note that while Fernandez has a strong core following, her disapproval levels are higher. In the latest poll by Raul Aragon & Asociados, 46.7 percent said they would never vote for her. Still, two years is a long time in politics and if the economy sinks she would be well placed to capitalize on that.
The Reference Shelf

Before it's here, it's on the Bloomberg Terminal.
LEARN MORE