China Steals Spotlight at Asean While Tillerson Keeps Low Profile
By and
Foreign minister demonstrates country's swagger on world stage

Role reversal as U.S.'s top diplomat opts for quiet approach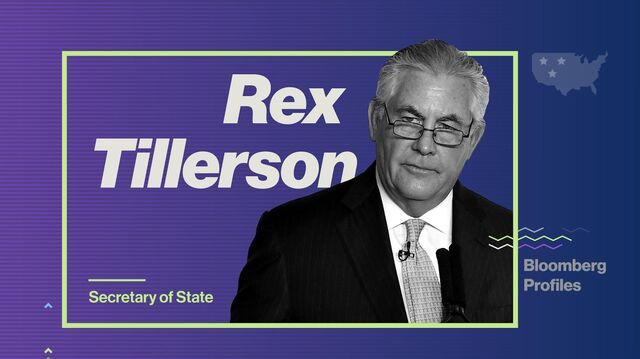 For evidence of China's burgeoning swagger on the world stage, look no further than Foreign Minister Wang Yi's performance at an Asian security meeting this week. 
Wang was easily the most active among the dozens of diplomats participating in the Association of Southeast Nations talks in Manila, holding 14 meetings on Sunday alone. In almost hourly press gaggles, he prodded North Korea to entertain overtures from Seoul and pushed back against Asean criticism of China's island-building in the disputed South China Sea.
Wang's spin through the spotlight was the latest example of China's more proactive diplomacy under President Xi Jinping, who has presented himself as an outward-looking alternative to Donald Trump's "America First" policies. In contrast, U.S. Secretary of State Rex Tillerson made only limited comments to the press during the gathering, leaving Wang to give reporters the only account of the pair's meeting.
One official with the Chinese delegation said Wang's accessibility to the press at the summit represented a conscious effort to demonstrate the country's growing role in global affairs. In a break with past practice, the Chinese side set up a media area near Wang's room at the Conrad Manila hotel and gave access to foreign reporters.
"This is a consensus among the top leadership," said Wang Yiwei, director of Renmin University's Institute of International Affairs in Beijing. Xi "demands that the ministry be more active, more assertive and better and more frequently explain China's stance to the international community," he said.
'Hide, Bide'
Xi has set the bar with high-profile speeches, such as his defense of globalization at the World Economic Forum in Davos, Switzerland, in January. He hosted the Group of 20 last year and in May gathered representatives from scores of countries of promote his "Belt and Road" trade-and-infrastructure initiative.
For decades, China avoided attention under the "hide and bide" policy of late leader Deng Xiaoping -- and its rise to diplomatic power has been bumpy. At a similar Asean gathering seven years ago, Wang's predecessor, Yang Jiechi, fumed at criticism from "small countries" about its claims to much of the South China Sea. And at the G-20 summit in Germany last month, China's foreign ministry held no press briefings whatsoever. 
Still, Xi's outward shift has shown some early success in shaping the narrative at least in Asia, quieting the South China Sea dispute and deflecting Trump's attempts to blame China for Kim Jong Un's pursuit of nuclear weapons.
In one question-and-answer session, Wang urged North Korea to halt weapons tests and to accept new United Nation sanctions while calling on the U.S. and South Korea to reduce tensions. In another, he noted that the South China Sea accounted for "much less" of Asean's communique than past summit, his voice hoarse from talking.
Personal Flare
Wang, 63, also demonstrated a personal flair rare for Communist Party officials. The former Chinese ambassador to Japan reminded newly installed Japanese Foreign Minister Taro Kono that his politician father was known to "speak from his heart." He also joked with Malaysian Foreign Minister Anifah Aman about his new mustache.
It wasn't the first time the pompadour-sporting Wang has drawn attention overseas. Last year his confrontation with a Canadian reporter over China's human rights record generated internet memes at home.
Wang might also be in position for a promotion later this year to China's top diplomatic post, now held by his predecessor Yang. His state councilor position is among dozens of offices that could be reshuffled after a key party congress later this year.
Tillerson Approach
China's approach at the Asean summit drew a sharp contrast with the lower-key Tillerson, who has sought to trim U.S. diplomatic personnel and speaks less frequently to the press than his predecessors. Wang was free to put words in his American counterpart's mouth Sunday when discussing a possible Trump visit to Beijing later this year.
"Like Secretary Tillerson said, we're hoping it could shape Sino-U.S. relations over the next 50 years," he told reporters.
Still, Wilfrido Villacorta, a former ambassador and permanent Philippine representative to Asean, said a quieter approach may have served U.S. interests. He called Tillerson "a real diplomat when he made himself scarce" to avoid criticism that he was interfering in discussions on the South China Sea.
China's accessibility didn't smooth all the rough edges of its diplomacy in Manila. Wang canceled a scheduled one-on-one meeting with his Vietnamese counterpart due to a spat over the South China Sea, according to people familiar with the situation. China saw Vietnam as responsible for language in an Asean statement that mentioned land reclamation, the people said.
"Ultimately, what happens in the rhetorical arena is just one element, and certainly not the most important one, in Sino-U.S. relations," said Jonathan Sullivan, director of the University of Nottingham's China Policy Institute. "But the capacity for China to make gains while the U.S. is enduring the dysfunction of the Trump administration is the reason I think we'll see more proactive engagements like Wang Yi's in Manila."
— With assistance by Andreo Calonzo, and Peter Martin
Before it's here, it's on the Bloomberg Terminal.
LEARN MORE