Spared by Congress, Temer Now Counts Votes on Brazil Pension Fix
By
Bloomberg survey shows pension bill at least 23 votes short

Small window of opportunity to pass bill by September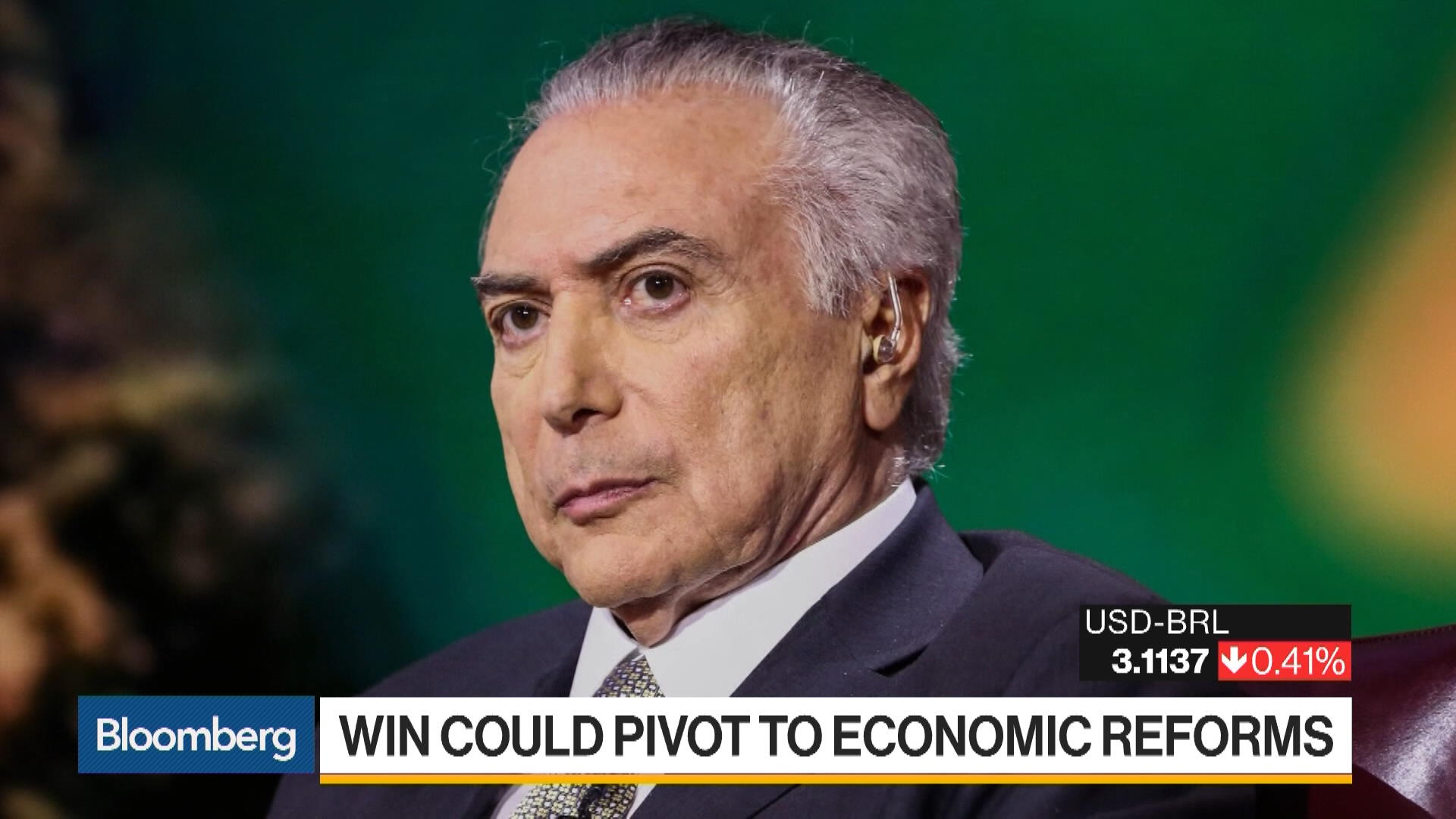 Beyond clinging to power for the rest of his term, Brazil's President Michel Temer also wants to go down in history as the man who fixed the country's battered accounts. To that end he is trying to build on the support in Congress that last week saved him from facing a corruption trial to pass a pension reform that would save Latin America's largest economy hundreds of billions of reais.
The magic number of votes needed to approve the reform in the lower house is 308, up from the 263 which blocked a further investigation of the charges against him last week. The consensus in Brasilia is that the government has a brief window of opportunity from now until the beginning of September to hold a first vote on the bill in the chamber of deputies. A Bloomberg survey of all 26 parties in the lower house found that the government currently has between 280 and 285 votes out of the 513 in the lower house.
That is roughly the same number of deputies that kept Temer in power: 284, when abstentions and absences are taken into account. However, the lawmakers who voted to shelve the charges are not necessarily the same as those who back pension reform. To become law, the bill also requires approval by the Senate.

The Scale of the Problem

Brazil's pension system is unsustainable. The government currently spends around 13 percent of GDP on pensions, according to official figures, but that number is expected to shoot up. The active labor force is forecast to shrink by 6.7 percent by 2060 while the number of retirees grows 263 percent. Without a substantial pension reform much of Temer's efforts to rein in spending to date will have been in vain.

The Road to 308
Tailwinds:
Parties hoping to rule Brazil from 2019 want current government to do hard work
Many legislators in ruling coalition ideologically in line with Temer administration
Temer and his aides are highly skilled negotiators
Headwinds:
No more firepower after a round of hand-outs ahead of Temer trial vote
Narrow window of opportunity
Additional cushion of votes needed to be on safe side
No negotiating room with opposition
— With assistance by Gabriel Shinohara
Before it's here, it's on the Bloomberg Terminal.
LEARN MORE