Tesla Plans $1.5 Billion Bond Market Debut to Fund Model 3
By and
Electric-car maker plans first sale of non-convertible debt

Spending on sedan capacity, battery output burns through cash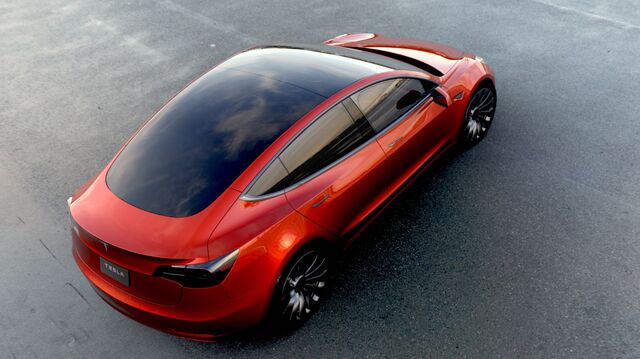 Having tapped the equity market eight times for capital over the past seven years to fund Tesla Inc.'s growth -- and cover its losses -- Elon Musk is turning to the bond market.
Needing cash to finance his audacious bet on the mass production of a more affordable electric car, the Model 3, Musk plans to sell $1.5 billion of eight-year bonds. Tesla officials are meeting with investors across the U.S. this week to drum up demand. The debt sale will test Musk's ability replicate the fervent following he's built among stock investors, who've bought into his vision of a clean-energy future and pushed the shares up 67 percent this year.
While bond markets have been running at historically frothy levels, Tesla is asking potential noteholders to overlook the company's negative cash flow and its repeated trips to capital markets to bolster its balance sheet.
This would be the company's first sale of non-convertible bonds, according to data compiled by Bloomberg. During early conversations with investors, Tesla has been offering to pay around 5 percent on the notes, according to two people with knowledge of the matter, who asked not to be identified as the discussions are private. That lines up with the 5.4 percent investors are demanding for junk-rated companies, according to Bloomberg Barclays index data.
Why Electric Vehicles Are Coming But Not Yet Here: QuickTake Q&A
Prospective buyers of this deal are investing in a company that has long had negative cash flow, and unlike with convertible securities, they won't enjoy many gains if Tesla is successful. The convertibles give holders a chance to profit if Tesla succeeds, by letting them transform the bonds into stock if the shares rise enough.
"As a straight bond investor, it's hard for me to think I really want to do this," said Jack Flaherty, a money manager at GAM Holding AG who previously bought Tesla convertible debt. "It's not like we're getting 10 percent to fund a negative-cash-flow company," said Flaherty, who hasn't decided if he'll participate.
Moody's Investors Service is rating the bonds B3 -- six steps below investment grade -- with a stable outlook. While Tesla's brand name, products and facilities could be valuable to companies like Apple Inc. and Alphabet Inc., the car producer faces significant risks as it attempts to boost production of the Model 3, Moody's analyst Bruce Clark said. Those include the rapid start of production for a totally new vehicle and the rush by existing automakers to introduce their own electric cars.
"They've got a lot of momentum from the standpoint of interest in the vehicle, but harvesting all of that -- getting production levels up to where they want them and doing it in a glitch-free manner -- that is not easy," Clark said in an interview.
Mass Market
The $35,000 Model 3 is the linchpin of Musk's plans to turn Tesla into more of a mass-market manufacturer. With a starting price roughly half the cost of the base Model S, the smaller sedan has racked up almost half a million net reservations since the company began taking refundable deposits last year. The carmaker plans to make 500,000 vehicles in 2018 and a million in 2020. The company produced almost 84,000 cars and sport utility vehicles last year.
Investor enthusiasm has catapulted Tesla's market value past General Motors Co. and Ford Motor Co., but bringing out the Model 3 has been costly. Tesla burned through a record $1.16 billion in cash in the second quarter, driven by spending on production capacity for the car and batteries.
Musk said on a quarterly earnings conference call last week that the company was considering raising debt rather than equity. Tesla has been able to negotiate favorable payment terms with suppliers to the Model 3, which should help improve cash flow.
"The Nirvana is that we can make the car and get paid for the car before we have to pay our suppliers, which then the faster you grow, the faster your cash position grows," Musk said Wednesday. "Obviously, that's like the promised land right there."
The bond sale is the latest in a series of moves Tesla made to pad its coffers this year. The company raised about $1.4 billion in March through a stock and debt offering and in June expanded credit agreements by a combined $800 million. Those credit agreements are senior to the bonds Tesla is now selling.
"There is a well-developed track record of successful investments and generating returns on those investments," said James Albertine, a senior analyst at Consumer Edge Research who has a buy rating on Tesla shares. "Tesla's a company that's always on to the next big innovation or the next big advancement and they raise money well in advance of when the public finds out about that."
Tesla ended the second quarter with a little more than $3 billion in cash, the lowest on hand in more than a year. The carmaker said last week it expects about $2 billion in capital expenditures in the second half of the year as it spends on Model 3 equipment, its battery gigafactory and the expansion of its supercharger network.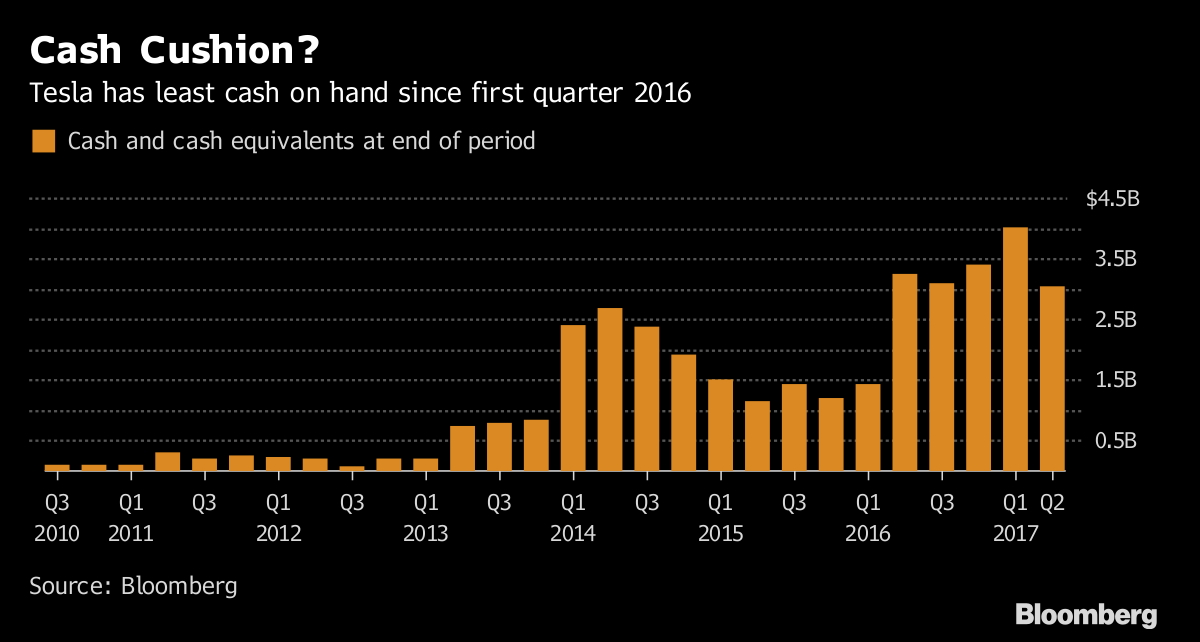 To accommodate its expanding customer base, Tesla has said it plans to add 100 service centers worldwide over the next year and hire 1,400 technicians to work on its cars. Musk plans to add a semi truck to the lineup after the Model 3 and has said that will be unveiled in September. After that comes the Model Y, a smaller crossover scheduled to arrive as soon as late 2019.
Tesla recently started installing solar roofs and is pairing this business with sales of Powerwall batteries that can store that energy and power homes. It's also doing business with municipalities, with Musk planning to build the world's biggest battery to support South Australia's blackout-plagued power grid.
— With assistance by Sridhar Natarajan, Nabila Ahmed, Dan Wilchins, and Dana Hull
Before it's here, it's on the Bloomberg Terminal.
LEARN MORE