markets
Rand Set to Surge If Zuma Loses Secret No-Confidence Ballot
By and
Fade move if Zuma stays; removal leads to more gains: BBH

Rand overnight volatility surges to highest since early May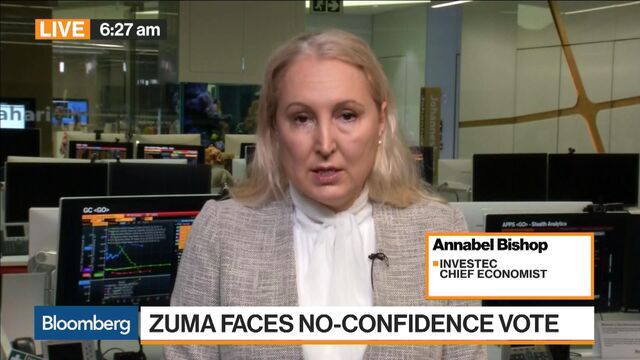 The South African rand could surge if President Jacob Zuma is ousted by a motion of no confidence in the nation's parliament, though gains would reverse if Zuma survives the vote, analysts say.
The currency rose for a second day after being the best performer among 31 major peers Monday as National Assembly Speaker Baleka Mbete said parliament would vote by secret ballot Tuesday.
Parliament sits at 2 p.m. local time to consider the motion, and the results are expected to be tallied later in the afternoon.

Here's what analysts and investors had to say about the currency's prospects ahead of the ballot: 
While the private vote is seen as more likely to oust Zuma than would be the case with a public ballot, he will probably get through it because "he's survived so many scandals already," said Win Thin, head of emerging-market currency strategy at Brown Brothers Harriman

"If the vote fails, then fade" the gains, Thin said. "But if it passes, ZAR is off to the races."

Zuma has staying power, and "that is negative for the ZAR," said Cristian Maggio, head of emerging-market strategy at TD Securities in London

If the motion fails, he sees USD/ZAR targeting 13.63; if it passes, he predicts the ZAR will strengthen to 13 or beyond
While the president will likely stay in power, the chances of Zuma's ouster have "increased significantly" with the secret ballot
"If the motion is approved, then USD/ZAR will tank. The market would cheer any result that sees Zuma's term end prematurely, as this has been marred by a number of scandals and bad economic performance"

The president is "very unlikely to be voted out," said Kieran Curtis, a money manager in London at Standard Life Investments. "It's so unlikely that a party would vote against its own leadership in parliament"

If Zuma loses the vote, "the rand would immediately strengthen" past 13 rand per dollar
Curtis is "pretty neutral" on rand assets, which are performing well at the moment. He's concerned about potential ratings actions toward the end of the year and their possible effect on investor flows

"The rand will crash through 13," if the no-confidence vote passes, said Kevin Daly, a portfolio manager at Aberdeen Asset Management

If Zuma stays in power, the rand will soften slightly
"There's more upside that can come out of here, because Zuma being forced to resign is not priced. Most people expect him to survive this vote. A lot of the bad news is already priced in"
If leadership changes in December, the rand could strengthen, he said

USD/ZAR may potentially test 12.85/90 if Zuma loses the vote and may touch 13.55/60 should the no-confidence vote fail, ING strategists including London-based Chris Turner write in emailed note.

"The balance of risks probably favors an insufficient number of ANC MPs defecting, the vote failing and the ZAR weakening"

USD/ZAR is approaching the 61.8% Fibonacci support of last week's range at 13.17; its next significant support is at 13.16-14, comprising the 100/21-DMAs, cloud top and Aug. 1 low
— With assistance by Sejul Gokal, Maria Jose Valero, Paul Wallace, Selcuk Gokoluk, Dana El Baltaji, and Ven Ram
(
Adding ING's outlook for the currency.
)
Before it's here, it's on the Bloomberg Terminal.
LEARN MORE