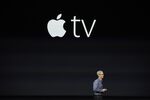 Apple thinks big. The company has a cult following in part because it aims to create products that change how people work and live. And it has done so with the graphical user interface for modern computers, the iPod and the iPhone. 
And then there's television and entertainment programming. Since well before Steve Jobs died in 2011, Apple executives have been saying TV entertainment needed a wholesale reinvention and Apple was just the company to do it. Fast forward to 2017, and America's entertainment is being reinvented. But Apple is barely involved. 
More than 1 million U.S. households have ditched cable TV so far in 2017, Morgan Stanley estimates. Tens of millions of people are binge-watching TV shows and movies on Netflix and Hulu without sitting through commercials. Some amateurs on YouTube are making videos that are more popular than many traditional TV series. People in and out of Hollywood are working on letting people screen new movies at home instead of trekking to the multiplex.

This evolution is big. It's shaking up pop culture. It's shifting how cars and diapers are marketed. It's affecting government policy. And Apple is a fringe player in all of this. Perhaps the most surprising thing is Apple doesn't seem to have a vision for what it wants to do in entertainment even after all these years. This is emblematic of Apple's waning ability to invent the future. 
To see how far Apple hasn't come, it helps to flash back to just after Tim Cook became CEO. He dropped hint after hint that the company was working on something big in television. "Many people would say this is an area in their life they're not really pleased with ... the whole TV experience," he said in a 2012 interview. "This is an area of intense interest for us."
Given Apple's leading role in changing how people listen to and buy music with the iPod and iTunes, and how Jobs helped usher in a new golden age for animation with his Pixar movie studio, Cook's proclamations about TV and entertainment had people on their edge of their seats.
Five years later, Cook is still proclaiming great interest in shaking up entertainment, but he doesn't have much to show for it. Here's what Cook said last week when he was asked about Apple's position in television and Apple's recent debuts of TV-like web video programming. "We'll see how this goes, but it is still an area of great interest," he said. His rhetoric is getting stale. 
It's not that Apple has stood still. Its Apple TV gadget lets people watch internet video on the biggest screen in their homes. Apple had considered making its own TV set but dropped the idea because executives didn't think they could create something substantially different from existing models. Apple has negotiated off-and-on without success to start a cable television-like collection of TV channels over the internet.
Eddy Cue, the Apple executive in charge of digital media, recently said Apple was trying to "do some different things" in entertainment. But it hardly seems that way. After 10 years, Apple TV is pretty much the same. Meanwhile Amazon, Google and others are leading the way in revamping how people interact with TV sets by speaking to them or mixing live television programs with libraries of older shows and movies. 
Amazon, Netflix, Google's YouTube, HBO, Facebook and others are spending billions of dollars on programming that people can't watch elsewhere. Many of those newcomers quickly became entertainment powerhouses. Amazon CEO Jeff Bezos has an Academy Award. Apple is still dabbling in a few web video series for its Apple Music app. One of the first programs, a "Shark Tank"-like competition for app developers, was panned by many reviewers. 
The worst part about all this is Apple doesn't seem to have a clear mission in entertainment. Cook in his comments to stock analysts last week said Apple was creating its own web video shows in Apple Music to learn what works in entertainment programming and to give subscribers to Apple Music some exclusive programming to keep them hooked. That's hardly a big picture vision of reinventing people's leisure time and revamping what it means to "watch TV." 
It's true that the U.S. television business is still in the early stages of being upended, and Apple could very well still play a big role. The company has more cash than many countries, and Hollywood took notice in June when Apple hired two prominent Sony entertainment executives who helped develop highly regarded TV shows such as "Breaking Bad." 
Apple still has plenty of opportunity and promise in pop culture, but the fact that it's still searching for its mission makes it a lot harder to be the Thomas Edison of reinventing entertainment. 
Before it's here, it's on the Bloomberg Terminal.
LEARN MORE