Venezuela Claims to Control 'Attack' at Military Base
By
Socialist party leader says 'terrorists' have been detained

New constituent assembly was sworn in, ousted chief prosecutor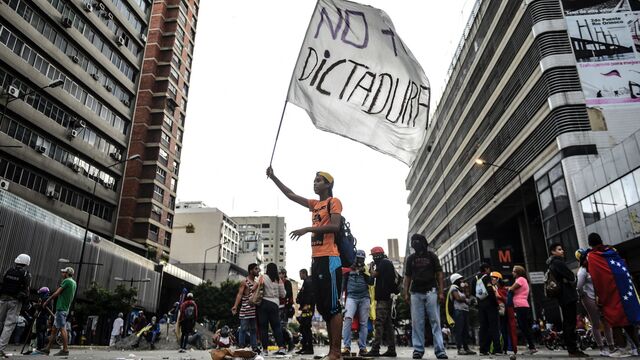 Venezuela's ruling socialist party said that an "attack" by "mercenaries" early on Sunday at a military base in the central city of Valencia had been defeated and several people detained.
"At dawn, terrorists entered the Paramacay base in Valencia to attack our national armed forces. There are several terrorists detained," Diosdado Cabello, a long-time government official and lawmaker who's currently one of the highest ranking socialist party members, said on his Twitter account. "There's absolute calm in the other military bases."

While Bloomberg couldn't independently confirm the incident, videos circulated on social media taken from nearby apartment buildings that showed armored cars driving near the entrance of the base as smoke lifted in the distance, with sounds of possible gunshots. A separate video showed a group of soldiers led by a captain identified as Juan Carlos Caguaripano, declaring themselves in rebellion.
The incident comes just days after President Nicolas Maduro installed his constituent assembly charged with rewriting the constitution in the nation with the world's biggest oil reserves. The vote to elect the assembly, which took place a week ago, was boycotted by the opposition and marred by accusations of fraud. The assembly on Saturday removed the chief prosecutor Luisa Ortega Diaz, a critic of Maduro's regime, and vowed to rule for a maximum of two years.
Analysts questioned details of Sunday's incident as it resembled another "attack" on the government from dissident army personnel in June. Rocio San Miguel, who studies the military in Venezuela, said in posts to her Twitter account that Caguaripano had escaped to Colombia several years ago. She also questioned why Cabello -- one of Maduro's closest allies -- rather than the Defense Minister Vladimir Padrino would have been the one to provide details of the incident.
The military subsequently issued a statement saying that several people involved in the alleged attack had been detained and others were being sought after stealing weapons. The statement, citing Padrino, said that those arrested included a first lieutenant who had deserted. The alleged attackers "confessed" they were contracted by far-right opposition activists working with foreign governments, the military said.
The military remains "monolithically united" in its "unconditional" support for Maduro, according to its statement. Army commander Jesus Suarez Chourio, speaking on state television, said one attacker was killed and another seriously injured.
The military plays a prominent role in Venezuela. Former President Hugo Chavez, who himself led a coup attempt in 1992, created what he called a "civilian-military union" to defend his socialist revolution and to carry out tasks such as food distribution. Padrino has repeatedly said the military supports Maduro.
In late June, the government denounced what it termed an "attack" by rogue police officials who flew a helicopter over Caracas, allegedly dropping grenades and firing guns from the air. The officers, who left the helicopter abandoned outside the capital, weren't captured even though the main pilot showed up weeks later at an opposition rally.

Meanwhile, opposition leader Leopoldo Lopez returned to house arrest late on Saturday, his wife Lilian Tintori said on her Twitter account. Venezuelan police detained Lopez and another Maduro opponent, Antonio Ledezma, at gunpoint earlier in the week in the aftermath of the contentious vote for the new constituent assembly.
— With assistance by Fabiola Zerpa, Walter Brandimarte, and Jose Orozco
Before it's here, it's on the Bloomberg Terminal.
LEARN MORE