business
Fourth Man Detained Over Australian Terrorism Plot Is Released
By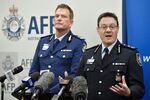 A fourth man detained last week over a plot to bomb a plane bound from Australia to the Middle East has been released on bail after being charged with a non-terror related offence, Australia Federal Police said in an email.
The man, 39, was charged with one count of possession of a prohibited weapon. Two of the four men arrested last week have been charged with terrorism related offences. A third was released earlier with no charge.
Australian police said during the week they thwarted one of the most sophisticated terrorism plots the nation has ever faced after two men allegedly attempted to smuggle a homemade bomb onto a Etihad Airways PJSC flight and then tried to turn it into a device to disperse chemicals.
The two, aged 49 and 32, face life in prison if found guilty of terrorism charges.
Authorities allege they tried to take an improvised explosive device, made with military-grade explosives provided by Islamic State, on to the flight from Sydney on July 15, but didn't get through check-in. When that plot failed, officers allege the men took the bomb apart and began turning it into a device that could disperse chemicals.
The explosives, which originated in Turkey, were allegedly sent to Australia on a cargo flight and Islamic State also provided instructions to build the second device, police said.
Sophisticated Plot
"This is one of the most sophisticated plots that has ever been attempted on Australian soil," Australian Federal Police Deputy Commissioner Michael Phelan told reporters Friday. "We could very well have had a catastrophic event."
The men were detained when counter-terrorism police raided several Sydney suburbs on August 5. The alleged plot prompted authorities to tighten security at all major international and domestic terminals across Australia. The case against the two charged with terrorism offences was briefly mentioned in a Sydney court Friday and was adjourned until Nov. 14, with no application for bail, the Sydney Morning Herald reported.
Deputy Commissioner Phelan said the homemade bomb was "fairly well advanced but not enough to be a fully initiated device." It didn't get through check-in, possibly because the baggage was too heavy, or possibly because the suspects backed out at the last moment, Phelan said.
Before it's here, it's on the Bloomberg Terminal.
LEARN MORE