Your Evening Briefing: India's Deadly New Weapon
Bloomberg News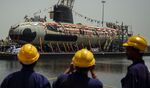 Property prices are finally starting to cool in two of the world's most expensive cities. Australia's landlords are being squeezed as regulators move to rein in lending, and as the interest-free loans popular with investors get harder to come by, first-time buyers in Sydney and Melbourne may start to find it easier to get on the property ladder. In Hong Kong — where homes cost more than in any other city — developers are targeting first-timers with apartments little bigger than a parking space. As tiny flats pile up unsold, analysts warn that the city is at risk of a property crash. But for now, record property prices are standing firm. — Alyssa McDonald
Watch out China, India has a deadly new weapon. After years of delay, India's navy is preparing to take delivery of one of the world's stealthiest and deadliest fighting tools: the INS Kalvari, an attack submarine named after a deep-sea tiger shark. It's a milestone in India's effort to rebuild its badly depleted underwater fighting force and comes as China's military expands its fleet to nearly 60 submarines and increases its forays into the Indian Ocean.
Trump's calls with Australian and Mexican leaders leak. Transcripts of the U.S. president's phone conversations with Australia Prime Minister Malcolm Turnbull and Mexico President Enrique Pena Nieto show Trump's relentless focus on his political image and underscore some of the difficulty he has had navigating foreign affairs. Revelations include Trump imploring Mexico's president to stop saying publicly that his country won't pay for construction of a wall along the U.S. border. Speaking to Turnbull, Trump opines that "Putin was a pleasant call. This is ridiculous."
How to make $81 million disappear. The important thing for anyone looking to launder money through a casino isn't to win. It's to exchange millions of dollars for chips you can swap for cool, untraceable cash at the end of the night. Here's the story of how two Chinese gamblers playing baccarat in the Philippines laundered tens of millions of dollars from the biggest cyberheist in history. 
Flames engulf 86-story residential skyscraper in Dubai.  A fire broke out in one of the world's tallest residential towers in Dubai on Friday morning, engulfing part of the skyscraper and sending chunks of debris plummeting below. More than 40 floors of the 86-story Torch Tower were seen burning on one side of the building. It's the second blaze to ravage the more than 1,100-foot-tall (335-meter) tower in less than three years.
Wanted: an opposition leader to challenge Malaysia's PM. Najib Razak is Malaysia's sixth prime minister since independence, and the opposition knows who it wants as the eighth. It's just not sure who should be the seventh. The de facto leader of the four-party alliance, Anwar Ibrahim, is currently in jail. If Najib loses the looming election, an interim leader will be needed while a royal pardon is sought. And right now the opposition can't say who that would be. 
The world's biggest pension fund posts a $46 billion quarterly gain. As global stocks rose and a decline in the yen against both the dollar and the euro helped boost the value of its overseas investments, the Global Pension Investment Fund posted a fourth straight quarterly gain. The Japanese retirement fund overhauled its strategy in 2014 to buy more shares and cut debt, a decision that has paid off.
Why we can't have a male pill. A new form of male birth control could be a multibillion-dollar business, as well as a public health triumph. But as research physicians like to joke, the male contraceptive has been five years away for the past four decades. So what's taking so long?

Before it's here, it's on the Bloomberg Terminal.
LEARN MORE