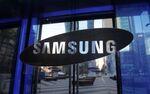 While the rest of the world tries to lower corporate taxes to stimulate growth, South Korea's populist leader is taking a different approach as he seeks to rein in the country's conglomerates.
President Moon Jae-in's proposal to raise the levy for companies with more than 200 billion won ($177 million) in taxable income to 25 percent from 22 percent sent the benchmark Kospi Index down almost 2 percent on Thursday in the second-biggest one-day decline since U.S. President Donald Trump got elected on Nov. 8.
Samsung Electronics Co., which has the largest weighting, and the largest pretax profit of the companies impacted, tumbled 2.5 percent.

Moon's party only holds 40 percent of seats in the National Assembly, so a quick passage isn't guaranteed. But if enacted, the tax hikes probably won't be as bad as investors in South Korea's largest companies think. If anything, the 3 percentage point lift in corporate tax might let the chaebol off fairly easy considering Moon's commitment to getting tough on big business.
For one, the increase would affect just 92 companies, even if they account for 65 percent of the equity value in South Korea, based on a Bloomberg Gadfly analysis of available market capitalization data.
And many of those companies are already paying an effective tax rate above that: The 92 firms currently pay an average effective tax rate of 26 percent, the Bloomberg-compiled data show. The median is 24 percent.

In Korea, resident corporations are taxed on their worldwide income. So even though Samsung generated only 10 percent of revenue from South Korea, it paid an effective tax rate of 25.5 percent in the last 12 months. That includes charges such as local taxes, as well as taxes paid in countries with higher corporate tax rates, like the U.S. (Samsung doesn't disclose its geographic breakdown of profits). 
The fact the Kospi Index dropped in response to the proposed changes makes sense -- in theory, additional taxes paid to the government means less money for dividends and other means of returning cash to shareholders. It could also potentially derail investments in growth and hiring. 
But right now, earnings are pretty healthy: More than half of companies on the Kospi Index that have reported this quarter posted profit growth or narrowed losses, according to data compiled by Bloomberg.

Plus, if Moon's tax proposal goes through as planned, Korea's largest corporations will also be able to take advantage of new tax deductions for things like turning non-regular employment positions into regular ones, and hiring women returning to the workforce. Just because the headline tax burden might go up doesn't mean that's what these companies will actually pay.
Korean chaebol have received decades' worth of free passes from past government policies that promoted low corporate taxes for the wealthiest companies in the hope of spurring economic growth.
That was fine when Koreans felt these firms were working to benefit the people. But this week's testimony by Jay Y. Lee, Samsung's vice chairman, on allegations he paid bribes to a friend of South Korea's ousted president to secure support for a key merger, should remind Moon that voters put him in office to get rid of the kind of breaks (tax and otherwise) these conglomerates have received over the years.
A slight corporate tax increase allows Moon to be seen to be cracking down on that special treatment while in reality only lightly curtailing company profits.
Before it's here, it's on the Bloomberg Terminal.
LEARN MORE