Noble Group 'Sinking in Perfect Storm,' Says Foe After Trader Profit Warning
By
Company selling assets to raise funds, pays 2020 bond coupon

'We don't write less when we are sued,' researcher's note says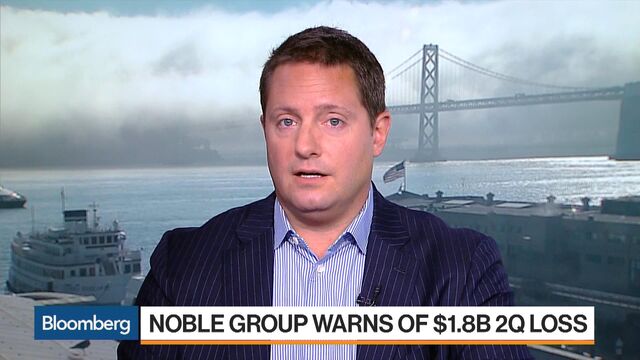 Noble Group Ltd. received a fresh broadside from Iceberg Research as the trader's long-time foe predicted that the commodity company will probably fail, while telling executives that the anonymous commentator won't be silenced by being sued. The trader's shares fell.
"Noble is sinking in a perfect storm," the researcher said in a report on Thursday. "The company is walking toward bankruptcy and liquidation. Its cost of fund is prohibitive. Noble is losing the confidence of its counterparties and of its banks. Key traders are leaving."
An external media spokesperson for Noble Group said the company doesn't want to comment on the report. Iceberg Research, which doesn't identify its analysts, has been sparring with the Hong Kong-based company for more than two years. The trader has repeatedly denied Iceberg's allegations.
Once Asia's largest commodity trader, Noble Group has been in decline since 2015, marked by losses, concern it won't be able to pay its debt, and accusations from Iceberg it inflated the value of some contracts. Last week, the company warned of a quarterly loss of as much as $1.8 billion -- including impairments of some hard-to-value contracts -- and announced more asset sales. Moody's Investors Service Inc. says the risk of default is elevated.

"Noble expects a massive loss of $1.8 billion in its second quarter," Iceberg said, adding that the arguments it has made against the company have been confirmed. It needs "billions from a new investor to repair its balance sheet and reverse its huge operating cash outflow," the researcher said.
The trader said last week it agreed to sell its gas and power unit to rival Mercuria Energy Group for $248 million, is seeking buyers for its oil liquids business and is continuing discussions with lenders. It's made a semi-annual coupon payment of $39.7 million on its 2020 bonds, and attention's now shifted to the $32.8 million payment on its 2022 notes due on Sept. 9, according to Bloomberg-compiled data.
'Challenge Its Ability'
If realized, the asset-disposal plans, will help address short-term liquidity, Moody's said last month. "However, the resultant substantial reduction in its scale and global reach would challenge its ability to reshape its business model and generate profit and cash flow to service the remaining debt." 
Noble Group's shares fell after the report's release, losing 5.1 percent to 37.5 Singapore cents by the close. The stock has plunged 78 percent this year, after double-digit declines in 2016 and 2015.
The trader has lost more than 90 percent of its market value since 2015, when its accounts and disclosure were first challenged by Iceberg. The company rejected the claims, saying they're the work of a disgruntled ex-employee it had fired and embarked on litigation against him.
"The lawsuit initiated by Noble against us is ongoing, although progressing at an extremely slow pace," Iceberg Research said in the report. "One of the objectives of this lawsuit was to silence us. We don't write less when we are sued. We write more."
Noble Group sues former analyst for conspiracy to injure company
Iceberg also commented on the role of Singapore's financial market regulators, saying that Singapore Exchange Ltd., which runs the stock exchange, and the Monetary Authority of Singapore, the country's central bank, had failed to make adequate checks on Noble Group. SGX spokeswoman Maynah Chin said she couldn't immediately comment.
"What is particularly shocking is that the SGX and the MAS have allowed Noble to raise more money," Iceberg said, noting an equity raising last year that brought in $500 million and $750 million bonds sold this year.
Rating agencies as well as short-seller Carson Block have expressed concern about the potential for Noble Group to default or restructure. Moody's has said further expected deterioration in results in the second quarter "suggests that default risk will remain elevated."
"The support of key stakeholders over the coming few weeks and months will be critical," Paul Brough, Noble Group's chairman, said last month. The company is due to report results next week.
— With assistance by Dan Murtaugh, Andrea Tan, and Andy Hoffman
Before it's here, it's on the Bloomberg Terminal.
LEARN MORE