Macron Vows Millionaire Minister Will Cut Worker Protection
By
Government says labor market plan unchanged by pay controversy

Executives and investors look to Macron to deliver on promises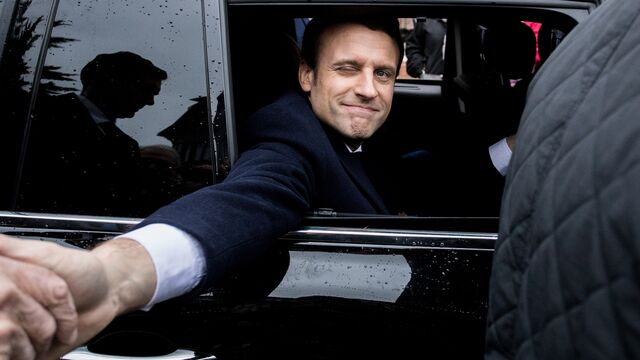 Emmanuel Macron never claimed it would be easy to strip back protection for French workers -- the last three presidents have failed. But he may be making it harder than he needed to.
If you wanted a poster child for the capitalist logic that so riles the old French left, then Macron's labor minister, Muriel Penicaud, is not a bad candidate. As a human resources director at Danone in the 1990s, Penicaud made 1.2 million euros ($1.4 million) from stock options while cutting 900 jobs, according to a French newspaper. That's on top of 4.8 million euros in cash remuneration over three years.
Reports about her executive record have inflamed Macron's opponents over the past week, stoking resistance to his plans to limit severance pay and reduce collective bargaining rights. With France's second-largest union, the CGT, already calling for demonstrations in September, the showdown is fast becoming an acid test of the president's ability to deliver on his campaign promises to shake up the economy.
"The Penicaud affair is going to make a difficult endeavor even riskier," Jerome Fourquet, the head of pollster Ifop, said by telephone. "The question is how this is going to weigh on the government's capacity to negotiate with unions. The harder its stance, the bigger the risk that public opinion will swing toward the opponents of reform."
Macron has tasked Penicaud with taking a decisive swipe at the thick red book which still governs labor relations and workers' rights in the euro area's second-largest economy. The failure of successive governments to significantly cut back on labor protection have made France an exception in the region as governments from Germany to Greece loosened regulation on working hours, pay and firing procedures, urged on by central bankers and executives.
Macron's approval rating has fallen in polls conducted since July 26, with an Elabe survey published on Thursday showing a 5 percentage point drop to 40 percent and a 7 point decline to 36 percent for YouGov. Macron's average popularity rating was stable in the three months through July and never fell below 52 percent, according to a Bloomberg News survey.
"A breakthrough is possible," Penicaud said Thursday morning on BFM Business radio. "Each party is voicing its position strongly and we're not all on the same page of course. Unions are playing their part and we'll play ours as referee." Earlier this week, Penicaud told lawmakers that accusations against her were "hurtful."
Absolute Trust
With opposition lawmakers demanding Penicaud's resignation, a spokesman for Prime Minister Edouard Philippe, who asked not to be named in line with government policy, said Wednesday that there was no cause for controversy and Penicaud retains the premier's absolute trust.
On Wednesday, Parliament authorized the government to legislate directly on the matter in September, a procedure which will enable the changes to take effect immediately.
"France really needs to make a move on the Labour market reform," Thomas Buberl, CEO of Europe's second-largest insurance company, Axa, said on Bloomberg TV today. "I'm very confident that Macron and his team are dedicated to making the necessary changes."
The minister was already facing a probe into tender procedures at Business France, the government agency she managed until Macron's election in May. Newspaper Le Canard Enchaine reported Tuesday that hearings will take place next month. Penicaud has denied breaching any law.
"You personally reaped the fruit of job cuts that you implemented," Communist lawmaker Elianne Assensi said July 27, as members of her group held up the front page of L'Humanite, a newspaper linked to their party, which read "Penicaud's one million-euro payday." "That's a serious matter for a minister in charge of a reform which'll lead to precariousness and impoverishment for millions of workers."
Economic Tailwind
France's economy expanded for a fourth straight quarter in the three months through June, ending years of stop-start progress and giving Macron momentum as he tries to push through crucial reforms. He's also cutting taxes and slashing public spending by 20 billion euros in 2018 to squeeze the budget deficit below 3 percent of gross domestic product.
"This country has many assets but needs a certain number of reforms and we feel that the president and the government are willing to implement these reforms rapidly," Thierry Le Henaff, CEO of chemical producer Arkema said, adding that he isn't worried by the Penicaud controversy. "We should move fast because we all have many projects in development."
The risk for Macron is that the controversy will make it easier for his opponents to discredit his reform plans with the electorate divided and volatile after an unprecedented presidential election. And if his reform fails, the confidence he's engendered among investors may dissipate.
FO and CFDT, two unions that were initially supportive of Penicaud, said the sums involved were "shocking." The government is already facing criticism for reducing wealth tax while cutting benefits including aid for housing. While FO leader Jean-Claude Mailly is refusing to rule out joining the CGT's protests, the government isn't flinching.
"The calendar is unchanged," government spokesman Christophe Castaner told reporters Wednesday. "Regulation will be enforced by autumn."
— With assistance by Ania Nussbaum, Caroline Connan, Francois De Beaupuy, and Geraldine Amiel
Before it's here, it's on the Bloomberg Terminal.
LEARN MORE