Ecuador's Moreno Faces Ruling Party Split
By
Move isolates Correa holdover Glas as ruling party fractures

President Moreno's popularity, bonds gain on break with past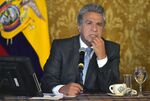 Ecuadorian President Lenin Moreno's bid to chart his own path following Rafael Correa's decade in power gained traction Thursday as he stripped his vice president and Correa-loyalist, Jorge Glas, of his duties a day after Glas accused him of betraying the ruling party
In an executive decree, Moreno said Glas had "failed to duly understand" that loyalty and commitment to the administration included "serving the fatherland by unifying efforts." The vice president's duties had included overseeing reconstruction efforts in provinces devastated by a 7.8-magnitude earthquake last year and areas related to industrial output.
Moreno ran as a candidate for Correa's Alianza Pais, known as AP, on pledges to build on his predecessor's social welfare policies but since taking office has demonstrated a pragmatic approach that's inflamed simmering tensions with party faithful. Correa has continually called Moreno, his vice president from 2007 to 2013, "mediocre" and "disloyal."
With Glas leading the charge, Correa loyalists are looking to push Moreno back into line, said political scientist Luis Verdesoto. "AP could try to unseat Moreno but lacks sufficient strength in congress," he added.

Defense Minister Miguel Carvajal, who served in the same capacity under Correa, sided with Moreno on Thursday, saying Glas was "absolutely wrong and absolutely wrong to present those errors in that way," in a television interview with Ecuavisa.
Moreno has criticized Correa's management of the country's finances, prompting Glas to accuse Moreno of "manipulating economic figures" in a bid to show that the "Citizens' Revolution managed the economy poorly." Arguing that the country needs the money, Moreno has also decided to raise Ecuador's oil production in breach of OPEC output agreements and longstanding practices of OPEC hardliner Correa.
Read more: Ecuador Could Be Struggling OPEC Output-Cut Deal's First Domino
Voters appear to approve of Moreno's stance, with his approval rating rising to 70.3 percent in a poll by Cedatos as of July 15, almost 20 percentage points higher than his narrow margin of victory on election day. Bonds, too, have rallied as Moreno has distanced himself from his former mentor, implying a less populist economic policy. In trading Thursday, the yield on Ecuador's benchmark 2024 bond dropped below 8.6 percent, the lowest level since March.
Glas, who rose to be vice president to Correa in 2013, has found himself ensnared in the what's become a region-wide scandal centered on Brazilian construction giant Odebrecht. He denies wrongdoing and refuses to resign.
Congress has the power to remove either Moreno or Glas, but neither AP nor conservative opposition parties have the necessary two-thirds majority to impeach them. Opposition parties and an anti-corruption watchdog on Wednesday demanded Glas resign. Moreno can't fire Glas but he can strip him of any role in government as he did Thursday.
While the government estimates that Ecuador's economy will expand just 0.7 percent, slowing from the 2.6 percent of the first quarter, it now faces the prospect of a full-blown political struggle, said Verdesoto.
Before it's here, it's on the Bloomberg Terminal.
LEARN MORE