Temer on the Line as Congress Considers Putting Him on Trial
By and
Opposition admits falling short of needed two-thirds of votes

Investors eyeing vote tally to gauge outlook for reforms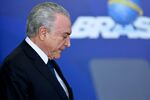 Voting has begun in Brazil's Congress on whether President Michel Temer should stand a corruption trial, a decision that may determine his political survival and the country's immediate economic outlook.
After a period of debates that started around 9 a.m. local time, lawmakers now cast their votes in a session that is expected to end later on Wednesday. Polls by local newspapers showed the opposition was falling short of the 342 votes, or two-thirds of the chamber, needed to put Temer on trial. The president would be forced to stand down if the trial started at the Supreme Court.
Lower house speaker Rodrigo Maia said it's the chamber's obligation to vote by the end of the day to clear the way for other important decisions. "The lower house needs to reorganize its economic agenda," he told reporters in Brasilia, adding that the next priority is to approve a pension reform.
Opposition leaders also admitted they lacked the two-thirds majority. "We don't have 342 votes, but we have a majority," said Julio Delgado of the opposition PSB party. "They have fewer votes than we do."
Favors for Votes
Temer, whose government's approval rating has dropped to only 5 percent, has personally lobbied over 160 legislators in recent weeks. On Tuesday he had lunch with at least 50 deputies from the agriculture caucus, offering to increase the government-mandated use of sugar cane-based ethanol.
Yet some of his main allies refused to fully back the president. The Brazilian Social Democracy Party, one of the largest in his coalition, is allowing its members to vote as they wish, while recommending they accept the charges against Temer, the party's lower house leader Ricardo Tripoli told O Globo newspaper.
How to Try a President in Brazil - a Step by Step Guide
Brazil's Temer Readying Economic Agenda for After Graft Vote
The Brazilian real gained 0.3 percent against the U.S. dollar as investors awaited the final voting result. While Temer is widely expected to block the corruption trial, the voting tally will signal whether he still has enough congressional support to push for reforms, Morgan Stanley strategists including Gordian Kemen wrote in a note to clients.
The 76 year-old constitutional lawyer is eager to end political uncertainty to focus on his economic reform agenda, which includes an ambitious proposal to cut pension outlays. Maia told local press this month that August may be the last chance to vote on the bill, seen as part of the solution to fix fiscal accounts.
"We want to conclude the voting today." said Beto Mansur, the deputy government leader in the lower house. "The result will be very positive and it will signal that we can approve the necessary reforms."
— With assistance by Maria Valero, and Simone Preissler Iglesias
Before it's here, it's on the Bloomberg Terminal.
LEARN MORE