Pilot Errors Revealed in Accident That Saw Pence Plane Skid Off Runway
By
Then-V.P. candidate Pence's plane ran off runway in rain

NTSB releases factual report detailing pilot miscues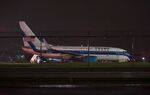 A several-second delay by pilots activating wing panels critical for stopping contributed to a charter plane carrying then-vice presidential candidate Mike Pence skidding past the end of a New York runway last October.
A factual report from the National Transportation Safety Board on Tuesday stopped short of concluding the incident's cause while revealing miscues by pilots of the Eastern Air Lines Group Inc. charter plane. The plane also flew thousands of feet beyond the optimal touchdown area at LaGuardia Airport, the NTSB said previously.
Devices known as spoilers, panels on the top of wings that drive a plane into the ground to help the brakes, weren't activated until 4.5 seconds after touchdown, according to the NTSB. An analysis by Boeing Co., which manufactured the 737-700, found that if they had been deployed within one second of landing, only the plane's front wheels would have left the runway, the NTSB said.
Spoilers normally activate automatically when a plane's wheels hit the ground, but the devices on this aircraft weren't working and had to be operated manually, NTSB said. Airlines are permitted to delay repairing such items.
Pence's plane skidded off the runway during a rainstorm on Oct. 27. None of the nine crew members and 39 passengers was hurt after a crushable concrete pad helped stop the plane from going onto a nearby highway.
Pilot Chatter
The plane floated, touching down 4,242 feet (1,293 meters) beyond the start of the runway, more than half way on the 7,001-foot landing strip's length, according to NTSB.
"Down, down, down, down," the plane's captain implored the copilot, who was at the controls, according to a transcript of a cockpit recording.
The NTSB said pilot errors exacerbated a difficult landing with a tail wind that was about 12 miles per hour, which is the maximum allowed in the 737.
The pilots apparently violated U.S. aviation regulations by chatting about issues unrelated to the flight while on approach to the airport, NTSB also said. Investigators didn't specify what was said.
In addition to the delay in activating the spoilers, also known as speed brakes, the plane's captain began braking and steering the plane after landing even though the copilot was supposed to be at the controls. Pilots are taught not to take over the controls without announcing that they're doing so.
Under Eastern's procedures, the pilots should have aborted the landing because they weren't properly lined up for the runway, according to NTSB.
Before it's here, it's on the Bloomberg Terminal.
LEARN MORE