Pence Says Future of Western Balkan Nations Lies in the West
By
U.S. vice president says door to NATO is open for new members

Pence wraps up east European tour with summit in Montenegro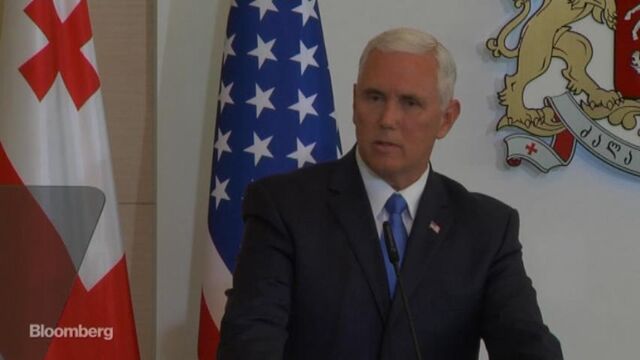 U.S. Vice President Mike Pence told the volatile western Balkans region that its future lies in the West, saying NATO's door is open for new members.
Pence is wrapping up a tour of eastern Europe by visiting Montenegro, a nation of 600,000 that only joined the North Atlantic Treaty Organization in June. At a regional summit Wednesday, he's meeting the leaders of NATO members Slovenia, Croatia and Albania, along with the heads of the Republic of Macedonia and Kosovo, which hope to join in the future. Serbia, which wants to join the European Union but not NATO, is also attending.
"We truly believe the future of the western Balkans is in the West and we look forward to reaffirming the commitment of the United States to build the relationships that strengthen the ties between the European community, the western Balkans and the United States of America," Pence said in Podgorica, Montenegro's capital.
Aside from Albania, all summit participants were once part of Yugoslavia, whose bloody breakup in the 1990s stirred the worst violence in Europe since World War II. Only Croatia and Slovenia have been able to join the EU, while the remaining countries are still seeking to become a part of the world's biggest trading bloc, despite opposition from Russia.
Montenegro has an historic affinity to Russia, which denies allegations it backed a failed coup attempt in October to halt the country's NATO accession. Pence praised Montenegro for its "resolve" in the face of Russian attempts to divert it from its "Euro-Atlantic path," according to a White House statement late Tuesday.
Challenging Stability
"Russia's intentions were laid bare over the past year, when Moscow's agents sought to disrupt Montenegro's elections, attack the parliament and even attempt to assassinate your prime minister, to dissuade the Montenegrin people from entering our NATO alliance," he said Wednesday. "Russia continues to seek to redraw international borders by force and here in the western Balkans, Russia has worked to destabilize the region."
Pence reiterated that President Donald Trump will "very soon" sign a bill "to strengthen and codify the United States' current sanctions against Russia." He also repeated Trump's plea that NATO members pull their weight by meeting the alliance's annual spending goal of 2 percent of gross domestic product. "We must shoulder this responsibility together," he said.
Montenegro serves as an example to others that NATO can still expand further, according to Pence.
The country's accession "proves that NATO's open door remains open and so will always be for those European countries that share our values, contribute to the common defense and strive to achieve security and prosperity and freedom for their people," he said.
— With assistance by Gordana Filipovic
Before it's here, it's on the Bloomberg Terminal.
LEARN MORE