Voting Firm Says Venezuela Overstated Election Turnout
By
Figure inflated by at least 1 million votes, Smartmatic says

Neighboring countries refusing to recognize Venezuelan vote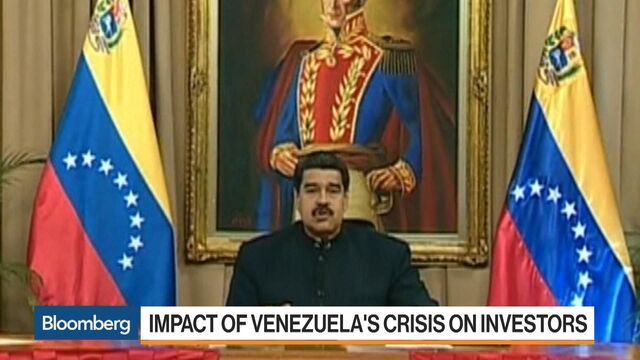 The company that has provided voting machines and software for Venezuela's elections for more than a decade said that turnout figures for Sunday's vote to elect an assembly to rewrite the nation's constitution were overstated.
"Based on the robustness of our system, we know, without any doubt, that the turnout of the recent election for a national constituent assembly was manipulated," Antonio Mugica, Smartmatic's chief executive officer, told reporters in London. "This would not have occurred if the auditors of all political parties had been present at the different stages of the election."
Venezuela's National Electoral Council held the widely criticized vote over the weekend and claimed about 8.1 million people participated. The opposition alliance and private polling companies said turnout was less than half that.
The U.S. responded by sanctioning President Nicolas Maduro, who has pressed for the body's creation, while the European Union and regional countries from Brazil to Argentina and Mexico also criticized the process.
Maduro, speaking on state television, called the president of Smartmatic "stupid." The voting technology used Sunday, he said, is the same used in elections where opponents came out victorious.
"The stupid president of Smartmatic, pressured by the gringos and the English, said it was 7 million, 500 thousand," Maduro said, adding that he estimates more than 10 million sought to vote with 2 million prevented from reaching voting centers because of opposition street violence.
Read more: Is Venezuela Becoming a Cuba-Style Dictatorship?: QuickTake Q&A
Speaking to reporters in London, Mugica said the figures were off by at least 1 million votes. The company would have to carry out a full audit to confirm the scale of the fraud, he said.
Venezuelan authorities have rejected the allegations. In a televised address Wednesday, Electoral Council President Tibisay Lucena labeled Mugica's comments an "irresponsible exaggeration" and said the assembly would convene nonetheless.
Smartmatic, a closely held maker of electronic voting machines, has long denied that it rigged elections to favor the late President Hugo Chavez, Maduro's predecessor.
"Even in moments of deep political conflict and division, we have been satisfied that the voting process and the count have been completely accurate," Mugica said. "It is, therefore, with the deepest regret that we have to report that the turnout figures on Sunday, 30 July, for the constituent assembly in Venezuela were tampered with."
— With assistance by Fabiola Zerpa, and Andrew Rosati
Before it's here, it's on the Bloomberg Terminal.
LEARN MORE