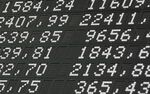 Dark trading has a bad reputation. Traders use venues called dark pools to buy and sell stocks without revealing beforehand the size of their orders or the price they are willing to accept. Not tipping their hand lets them trade without moving share prices against them, but hiding bids and offers reduces the flow of information that makes public stock exchanges efficient at setting prices. New European Union rules taking effect in January, known as MiFID II, are designed to force most equity trading back onto public, "lit" stock markets, but they may be insufficient to stop traders determined to remain in the dark.
1. Who uses dark pools?
Dark pools, though accounting for less than 10 percent of European equity trading, are central to how the biggest investors buy and sell shares. Large fund managers often own stakes of 5 percent or more in individual stocks. When they have to trade a lot of shares, they prefer to do the transaction on a dark venue as a block trade. That's become more important with the rise of high-frequency traders, who use algorithms to spot block orders and trade against them almost instantly. HFT firms make public markets potentially much more expensive than dark pools for big orders. It's no coincidence that dark pools have grown in popularity at the same time that high-speed traders have displaced traditional market makers.

2. What do regulators want?
The European Commission, the EU's executive arm, agrees that dark pools have a role in matching the largest orders. What it doesn't like to see are smaller trades taking place in the dark. So it's setting limits. 
3. Which trades can still be done in the dark?
There will be a waiver for the biggest trades. The threshold to qualify for the large-in-scale waiver varies according to how much the stock has traded. For the least-traded stocks, a block of just 15,000 euros counts as large in scale. For the most-traded (shares with volume of more than 100 million euros a day), the threshold is 650,000 euros.
4. Which trades are being targeted?
From January, no stock can be traded in the dark if 8 percent of its trading volume over the previous 12 months took place away from public exchanges. The EU rules also stop a stock from trading on an individual dark venue if that market accounted for 4 percent of that stock's volume. By one estimate, the rules will bar three-quarters of big European stocks from dark pools. Trades that are big enough for the large-in-scale waiver can still take place in the dark regardless of whether the stock is suspended. The MiFID II caps are set at arbitrary levels -- there is no evidence that public markets suffer once dark trading exceeds 8 percent of total volumes. The U.K.'s Financial Conduct Authority has said that dark trading can make stock exchanges less efficient, but only once dark volumes exceed 15 percent.
5. Will all smaller trades be done publicly?
No. Fund managers have three ways to keep trading in the dark: They can bundle their orders together to qualify for the waiver, take part in auctions rather than normal trading, or switch to a new type of dark market -- the systematic internalizer. Fund managers have plenty of orders that are large enough for speed traders to trade against yet too small to qualify for the large-in-scale waiver. "There will always be a need to trade in less than large-in-scale without signaling to the market," says David Howson, the chief operating officer of Bats Europe, a dark-pool operator.
6. What is a systematic internalizer?
The SI replaces the bank-run networks that currently account for about half of dark trading in European equities. MiFID II bans these "broker-crossing networks," because they allow brokers to sidestep public stock exchanges, but the European Commission sees a role for banks that are prepared to use their own capital to trade with their customers' orders. So SIs will be permitted to carry out unlimited dark trading as long as the bank is putting its capital at risk. Proprietary trading firms can also choose to become SIs because they too trade on their own capital. SIs do not display the size of orders, making them effectively dark markets. Virtu Financial Inc. and Tower Research Capital LLC, two giant U.S. algorithmic traders, have already announced that they will become SIs.
7. Who will offer auctions as alternatives to dark pools?
Rather than accept defeat, existing dark pools will match incoming orders using periodic auctions rather than normal continuous trading. Goldman Sachs Group Inc., Nasdaq Inc. and CBOE Holdings Inc.'s Bats will all have auction services by January. Auctions technically take place in the light, not the dark, but orders are hidden until they can be matched. That prevents algorithmic traders from spotting orders and trading against them.
8. How much dark trading will stay in the dark?
Nobody really knows. In the coming months, market operators, trading firms and banks will set out their services to avoid the dark-trading limits. It will take a while to see where the displaced dark trades will go. The only certainty is that Europe's already fragmented equity markets are about to become much more complicated.
The Reference Shelf
Before it's here, it's on the Bloomberg Terminal.
LEARN MORE