HBO Hackers Stole Episodes of 'Curb Your Enthusiasm'
By
CEO says email system 'as a whole' apparently wasn't breached

Network probes cyberattack, offers staffers credit monitoring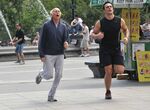 Hackers who broke into the computers at Time Warner Inc.'s HBO stole episodes of Larry David's "Curb Your Enthusiasm" and "Ballers," according to a person familiar with the investigation.
They don't appear to have breached the company's email system, according to a memo to employees from HBO Chief Executive Officer Richard Plepler that was obtained by Bloomberg.
"Many people have expressed particular concern about our email system," the head of the network wrote in the memo Wednesday. "At this time, we do not believe that our email system as a whole has been compromised, but the forensic review is ongoing."
HBO said Monday it was working with law enforcement and outside security firms to respond to the cyberattack. Plepler said HBO is hiring an outside firm to provide credit monitoring to employees whose personal data may have been accessed.
The company's investigation is still ongoing. If HBO's emails weren't compromised, it would likely mean the attack will be less embarrassing to the premium cable network than a 2014 breach of Sony Corp.'s movie studio.
The Sony attack garnered global headlines Nov. 25 after hackers took down the company's computer system in protest over its film "The Interview" and dumped reams of unflattering disclosures onto file-sharing websites that the media raced to publish.
With popular series like "Game of Thrones," HBO has struggled to prevent piracy. The hackers claimed to have stolen a script for an upcoming episode of "Game of Thrones," Variety reported this week. Plepler warned employees that speculation in the media about the hack "may very well not be true."
Before it's here, it's on the Bloomberg Terminal.
LEARN MORE