Gupta Family Denies Leaked South African Emails Are Real
By
Gupta says concept of white monopoly capital always existed

Family says company advisers are 'very credible people'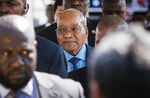 A raft of emails leaked to South African media about how the Gupta family have won billions of rands of contracts from state-owned companies and influenced government decisions through their closeness to President Jacob Zuma isn't authentic, family member Atul Gupta said.
"There's no authenticity of Gupta Leaks at all," Gupta told the British Broadcasting Corp. in an interview. There is every-day "perception-mongering to drive their own agenda," he said.
Companies controlled by the Gupta family, who are friends with Zuma and in business with his son, were dropped by their South African bankers, brokers and auditors, and the nation's graft ombudsman implied that the president allowed the family to influence cabinet appointments and the issuing of state contracts. Zuma and the Guptas deny the allegations. 
News organizations, including the amaBhungane Centre for Investigative Journalism, have reported that they have as many as 200,000 emails they say expose dealings by the family showing influence over the government and state companies.
Public-relations firm Bell Pottinger LLP ended its relationship with the Guptas' Oakbay Resources and Energy Ltd. and in July said it had hired the law firm Smith Herbert Freehills LLP to probe its work for Oakbay. It fired a partner and suspended three other employees after a preliminary investigation into its work for the Gupta family exposed "inappropriate and offensive" activities, it said.
'Credible People'
The Democratic Alliance, the biggest opposition party, accused Bell Pottinger of pushing "white monopoly capital," a term used by politicians including Zuma and members of the Black First Land First movement, as the main cause of inequality in the country. At its July conference, the ruling African National Congress rejected demonizing the concept as the primary driver of the country's problems -- a setback for the faction that supports Zuma's favored candidate, his ex-wife Nkosazana Dlamini-Zuma, to succeed him as the party's leader in December.
"White monopoly capital, if you go research any revolutionary speech in this country, always exist, meaning I don't know where this term comes from, believe me," Gupta told the BBC. "I don't think it belongs to any of our professional advisers. I will be shocked. They are very credible people, I believe they should not do anything like that. Neither us nor them."
Before it's here, it's on the Bloomberg Terminal.
LEARN MORE