Apple's iPhone Optimism Puts Cook on Path to Hit Top Pay Target
By
CEO to get 280,000 shares if stock rally holds through Aug. 24

He's said that most of his wealth will be donated to charity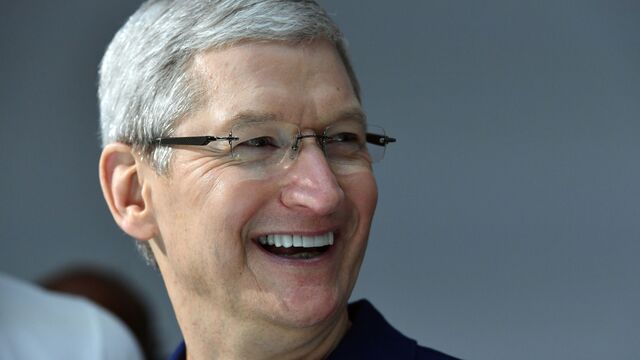 A rosy forecast for iPhone sales that helped push Apple Inc.'s stock to a record high Wednesday edged Chief Executive Officer Tim Cook closer to reaching the top threshold for his fiscal 2017 performance award.
Cook, 56, will collect 280,000 shares on Aug. 24 if total shareholder return over three years beats at least two-thirds of the companies in the S&P 500. If Apple falls in the middle third of index members he gets half that amount, and none if it lands in the bottom third.

As of Tuesday's close, Apple's stock had returned 56 percent, close to the border between the middle and top tiers, with 140,000 shares hanging in the balance. Then the firm posted strong third-quarter results and boosted its revenue outlook for the fiscal year, sending the shares to new heights on Wednesday. Apple surged 4.7 percent to $157.04 at 11 a.m. in New York, the third-biggest gain in the S&P 500. The daily advance puts Cook firmly within reach of his full performance award, currently worth $44 million.
That's good news for the charities that will eventually receive the bulk of Cook's wealth. The CEO said in 2015 he plans to donate most of his fortune -- after paying for his nephew's college tuition.
See Also: Tim Cook's Reveal: What We've Learned About Apple's Private CEO
There's no guarantee Apple's total shareholder return will remain in the top third when the performance period ends on Aug. 24. The final calculation will be based on the average prices in the 20 trading days before the start and end of the three-year performance period.
When he took over as CEO in 2011, Cook received a big stock award that was set to vest in two phases over a decade. In 2013, at his request, the board's compensation committee tied a third of those shares to the company's relative stock performance versus the S&P 500. The shares pay out annually.
For more on Apple, check out the Decrypted podcast:
— With assistance by Alex Webb
Before it's here, it's on the Bloomberg Terminal.
LEARN MORE