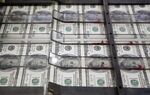 For years, many pension funds assumed they would earn an average 8 percent annually from their investments.
It was a reasonable expectation for a while. But times have changed.
Now, the question isn't whether return expectations should be lower, but by how much. The average target has fallen toward 7.5 percent, but that's still probably difficult to meet without taking excessive risk.
Howard Marks, the co-founder and co-chairman of asset manager Oaktree Capital Group, threw out a number this week that was markedly lower and challenges models used throughout the pension industry.
"If you walked into a pension fund today which had no investments, and you were given a pile of cash and you invested today intelligently, prudently, but not shrinking from risk, I think you could expect to make something in the vicinity of 5 percent in the coming years from today," Marks said in a Bloomberg Radio interview on Tuesday.
This reality presents a problem for the $22.4 trillion U.S. pension industry. Many of these funds need to earn 7.5 percent on their investments to cover their promises made to current and former employees. As returns drop, fund managers can expect to either force their members to accept fewer benefits and smaller payments or else demand more taxpayer money.

Both measures are already being taken. This week, Chicago said that it would contribute $1.18 billion to pensions in 2018 to bridge the gap between their unfunded liabilities and assets. Houston's pension system negotiated bigger contributions from members and a requirement for members to renegotiate benefits if investments substantially underperform expectations.

The vast majority of pension funds, however, still face a day of reckoning as their return expectations fail to materialize. The worst-case scenario for them, to be honest, isn't necessarily a cataclysmic market meltdown. That would actually be cathartic and help them increase  their returns going forward, especially if they had liquid assets on hand to buy distressed assets.

Instead, the worst-case scenario is the most likely one -- a slow grind upward in bond and stock valuations followed by an unpredictable (but possibly slow) decline in asset prices, with an increasing number of corporate sob stories and liquidations along the way. Given that the average high-yield bond yield is just 5.4 percent and the earnings yield on the S&P 500 index is 4.7 percent, it wouldn't take much of a asset price decline to deliver disappointing returns.

Of course, there will be pension managers who skillfully navigate the current dangerous markets and meet their targets. Chris Ailman, the chief investment officer of the $209 billion California State Teachers' Retirement System, just posted a 13.4 percent return in the fiscal year ended June 30.

Ailman said he thinks a return expectation of 7 percent is reasonable in the years ahead after factoring in legacy investments and future purchases of more-distressed assets. His fund has been selling stocks into this year's rally and increasing its cash position to take advantage of a sell-off. 

For the most part, however, the 5 percent estimate is an important dose of reality for an overly ambitious pension community. At some point, most of these funds will have to bridge yawning gaps between how much money they have and how much they owe. It's better if they do it sooner rather than later.
Before it's here, it's on the Bloomberg Terminal.
LEARN MORE