Venezuelan Arrests Show Maduro Moving Fast to Snatch Power
By and
Videos appear to show Lopez, Ledezma being taken away

Dozens have died during months of protests against Maduro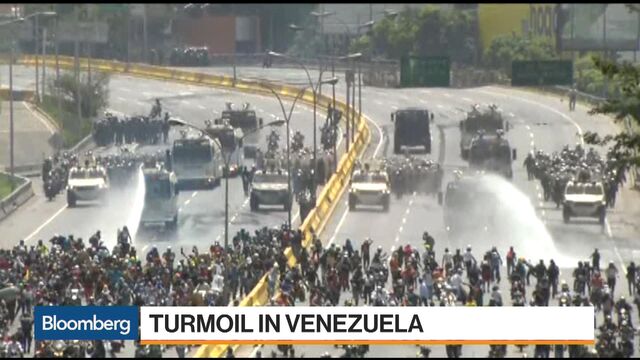 It took a single day for Venezuelan President Nicolas Maduro to make his authoritarian intentions clear.
About 24 hours after Maduro announced the formation of an assembly that would shoulder aside democratic institutions, security forces hustled away the highest-profile opposition figures from their homes. The crackdown drew international condemnation, shook bond markets and conjured memories of the continent's earlier era of repressive and deadly politics.

"The imprisonment of two of the most important dissidents of President Maduro's government is further proof of the lack of respect for individual liberties and the due process of law, essential pillars of a democratic regime," according to a statement from the office of Brazil's foreign minister, Aloysio Nunes Ferreira.
For months, Maduro has been facing not only violent street protests but the possibility of economic punishment by the U.S., the largest purchaser of its oil. On Monday, the Trump administration punished the socialist president by freezing any assets he has in the U.S., and Treasury Secretary Steven Mnuchin branded him a dictator out to kill a six-decade democracy. On Tuesday, Maduro's regime re-arrested opposition leader Leopoldo Lopez, whose wife in February had visited the White House to ask President Donald Trump's help in freeing him.
Lopez was taken from his home at gunpoint, Lilian Tintori said, just weeks after he had been transferred to house arrest after three years in a military prison. Caracas Mayor Antonio Ledezma was also seized, according to his wife.

Lopez has become a symbol for rights groups and foreign governments, who've said his detention was clear evidence that Maduro would trample basic rights. As Venezuelans suffer food shortages and violence escalates, Maduro is seeking to rewrite the constitution after a Sunday vote to choose members of a so-called constituent assembly that the opposition and many foreign governments refused to recognize.
One of Maduro's top allies and leader of the ruling socialist party, Caracas Mayor Jorge Rodriguez, said Tuesday that the assembly would convene in coming hours. He didn't say when or where.
Read more: Is Venezuela Becoming a Cuba-Style Dictatorship?
Dictatorships' Specter
The arrests brought back bitter memories of Latin American nations ruled for decades by repressive governments of the left and right. Raul Castro continues his brother Fidel's domination of Cuba. Brazil was governed by a succession of generals, with democracy re-emerging only in 1985. In 1973, Chileans elected socialist Salvador Allende, only to see him toppled by a U.S.-backed coup. In Argentina's "dirty war" that lasted until 1983, thousands of dissidents disappeared at the hands of the military regime, some cast into the ocean from planes.
Now, for months, Venezuela's government has held hundreds of political prisoners, with some arbitrarily detained and others prosecuted in the military justice system. Human rights advocates say some have faced torture.
"Maduro is sending a frightening message to all the people in Venezuela: Dissent will not be tolerated in any form," Erika Guevara-Rosas, Americas director at Amnesty International, said in a statement.

Ledezma was sent to Ramo Verde prison, according to his wife, Mitzy Capriles. A video shows him being taken out of his building in blue pajamas.
"Maduro is a dictator," Capriles said at a news conference in Madrid.
Tintori released security-camera footage that appeared to show security forces putting Lopez into a car marked with the emblem of the intelligence police. Juan Carlos Gutierrez, Lopez's lawyer, said in a radio interview that Lopez was taken to Ramo Verde.
In a statement Tuesday evening, President Trump called Lopez and Ledezma "political prisoners" who are being held illegally, and said the U.S. holds Maduro "personally responsible" for the pair's health and safety. "We reiterate our call for the immediate and unconditional release of all political prisoners."
The U.S. is "evaluating all our policy options as to what can we do to create a change of conditions where either Maduro decides he doesn't have a future and wants to leave of his own accord or we can return the government processes back to their constitution,"
Secretary of State Rex Tillerson said to reporters in Washington earlier Tuesday.
Unlimited Power
The 545-member constituent assembly, expected to be dominated by Maduro and his ally, strongman Diosdado Cabello, will meet as soon as this week to discuss changing the charter already rewritten under former leader Hugo Chavez. The body will supersede the national assembly, which is dominated by the opposition.
On Tuesday, the streets of Caracas bustled as usual, with businesses open and public transit running. But tremors radiated through markets. Bets on a Venezuelan default are climbing and the implied probability of a missed payment over the next year has risen to 64 percent, according to data compiled by Bloomberg. The government's $3 billion of bonds due in 2022 fell to a 15-month low and traded at 41 U.S. cents on Tuesday.

Despite its oil wealth, years of economic mismanagement have beggared Venezuela. With international reserves near a 15-year low of only $10 billion, the country is facing foreign debt payments totaling $4.8 billion in the remainder of the year. Of that, $1.6 billion is due in October and another $1.9 billion in November.
The unaccustomed poverty in a formerly prosperous petrostate set off unrest that has brought soldiers into the streets and forced residents to stockpile food and water.
Opinion polls show the Venezuelan people are strongly opposed to Maduro's plan. Protesters have been confronting security forces since April in clashes that have led to more than 110 deaths. A mass march against the regime is scheduled for Wednesday.
— With assistance by Maria Tadeo, Nathan Crooks, Noris Soto, Raymond Colitt, and Jose Enrique Arrioja
Before it's here, it's on the Bloomberg Terminal.
LEARN MORE