Tillerson Says 'Peaceful Pressure' Still Best North Korea Option
By
Secretary of state comments after Senator Graham warns of war

Top U.S. diplomat offers a global summary after six months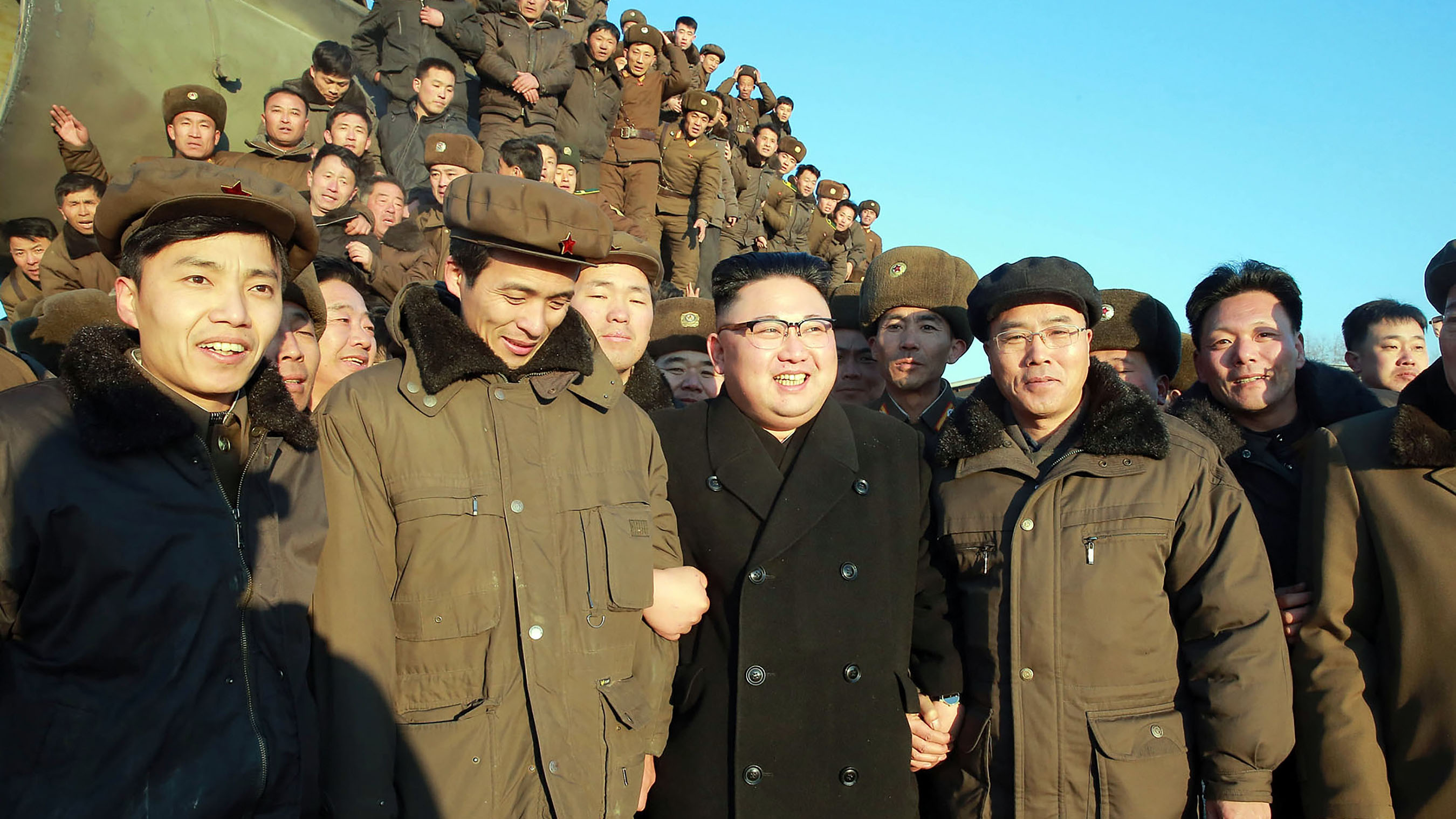 U.S. Secretary of State Rex Tillerson urged continued "peaceful pressure" on North Korea, even as one Republican senator ratcheted up talk of war.
Taking stock of his tenure after six months in office, Tillerson told reporters at the State Department Tuesday that the U.S. goal isn't to topple Kim Jong Un's regime or find "an excuse to send our military north." Instead, he said, it's to get the regime to develop the "willingness to sit and talk with us and others, but with an understanding that a condition of those talks" is North Korea giving up its nuclear weapons capability.
"We're trying to convey to the North Koreans: We are not your enemy," Tillerson said. "We're not your threat, but you are presenting an unacceptable threat to us, and we have to respond."
It was a decidedly less confrontational tone than that of Republican Senator Lindsey Graham, who told NBC Tuesday that "there is a military option -- to destroy North Korea's program and North Korea itself."
"There will be a war with North Korea over their missile program if they continue to try to hit America" with an intercontinental ballistic missile, Graham said. President Donald Trump "has told me that. I believe him, and if I were China, I would believe him too and do something about it," Graham said.
Read More: North Korea's Missiles May Be Too Advanced for More Sanctions
Asked about the South Carolina senator's suggestion, White House press secretary Sarah Sanders said Trump has been "very outspoken" about "keeping all options on the table."
China's Role
Tillerson also underscored China's key role in diplomacy with North Korea, through its "special and unique relationship" with the isolated nation. China can "influence the North Korean regime in ways that no one else can," he said.
Trump said on Twitter on Saturday that he was "very disappointed in China."
"Our foolish past leaders have allowed them to make hundreds of billions of dollars a year in trade, yet..." he tweeted, "...they do NOTHING for us with North Korea, just talk. We will no longer allow this to continue. China could easily solve this problem!"
In his rare appearance before reporters at the State Department, Tillerson defended his efforts to translate Trump's "American First" slogan into a foreign policy that can engage other nations.
"When we say, 'America first,' it doesn't mean America alone," Tillerson said.
Russia, Iran, Syria
The top U.S. diplomat also said:
* U.S.-Russia relations remain "under considerable stress" and "could get worse" even though there are also areas of potential cooperation. Tillerson said "neither I nor the president are very happy" about new sanctions legislation from Congress but "we'll work with it."
* The deal Iran signed with world powers to curb its nuclear program comes with an implicit promise that the Islamic Republic will be a "good neighbor." He suggested the Trump administration may not continue to find Iran is in compliance with the multinational accord.
"It's an agreement that should serve Americans, America's interests first and foremost, and if it doesn't serve that interest then why would we maintain it?" Tillerson said.
* While the Trump administration is working with Russia in Syria to fight terrorists and develop cease-fire zones, the U.S. position remains that Syrian President Bashar al-Assad -- Russia's ally -- can have "no role in the future governing of Syria" and that Iran's forces "must leave and go home."
Before it's here, it's on the Bloomberg Terminal.
LEARN MORE