SoftBank Said to Have $65 Billion in Funds for Charter Deal
By
Bank financing is said to have been in place for some time

Malone is said to agree with Charter board's decision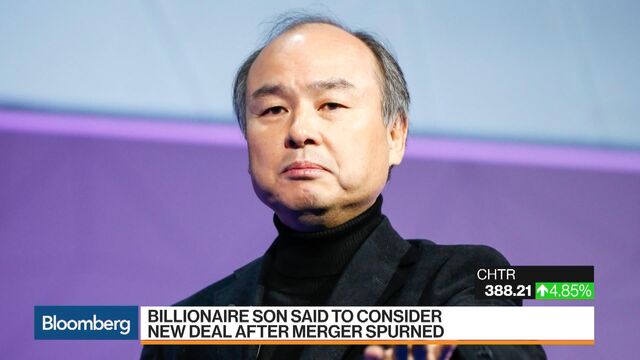 SoftBank Group Corp. has as much as $65 billion in financing lined up as Chairman Masayoshi Son weighs whether to make a formal takeover offer for Charter Communications Inc., according to people familiar with the matter.
The financing arrangement is among the new details that are emerging on Son's plan to merge Charter with SoftBank's struggling U.S. wireless company Sprint Corp. While Charter said in a statement last weekend that its board wasn't interested in buying Sprint, Son's proposal all along has been for SoftBank to acquire Charter and combine it with Sprint to create a new publicly traded company, the people said.
The funding to complete that complex transaction, from four banks, has been in place for some time, said the people, who asked not to be identified discussing private information. Charter's board was aware of the financing when it rejected Son's initial deal proposal, but he is contemplating whether to proceed with a formal offer anyway, perhaps with some tweaks, they said.
Persuading Charter's investors to do a deal could be tough. John Malone, the cable billionaire who controls about 21 percent of Charter through Liberty Broadband Corp., agreed with the decision by Charter's board to reject Son's proposal, two of the people said.
A formal offer is unlikely to come this week, and Son may ultimately decide not to proceed with a bid for Charter, the people said. His plan had been for SoftBank, which owns 84 percent of Sprint Corp., to acquire the rest of the U.S. wireless carrier for a premium, then buy Charter for cash and stock, the people said.
SoftBank would have owned more than 50 percent of the new publicly traded entity, with Charter shareholders owning the rest, the people said. Charter's board concluded that its investors would rather own 100 percent of the cable company than a minority of a Sprint-Charter combination, two of the people said.
The board also considered $65 billion of debt to be too much for the new company to take on, one of the people said. Charter already has $63 billion of debt on its balance sheet, while Sprint is carrying $40.9 billion of its own. SoftBank is among Japan's most indebted companies, with total debt of about $130 billion.
Shares of SoftBank fell 2 percent to 8,777 yen as of 12:42 p.m. in Tokyo, their third straight day of declines.
U.S. cable and wireless carriers have been circling each other as more consumers watch video and access the internet on mobile devices. By combining, companies like Charter and Sprint could offer a full suite of telecommunications services to customers, from home broadband internet to wireless plans, and compete head-to-head with the packages sold by phone giants AT&T Inc. and Verizon Communications Inc.
Son is known for bold decisions and has spoken, without irony, about his 300-year plan for SoftBank and aims to build the world's most valuable company. His Vision Fund has raised $93 billion for tech investments. Bidding for Charter, which has a market value of $107 billion, would mark the most ambitious target yet for Son, whose deal spree has made SoftBank one of the most debt-laden companies in Japan.
Sprint has lost billions since SoftBank bought control in 2013, and the U.S. wireless company's own looming debt maturities have put pressure on Son to find a partner. Sprint has argued publicly that a merger with T-Mobile US Inc. makes sense because it would create a bigger wireless carrier to take on larger competitors AT&T and Verizon. But a surge in the value of Sprint's wireless spectrum holdings persuaded executives to consider other deals, too, Bloomberg reported in April.
Charter and Comcast Corp. spent weeks in exclusive talks with Sprint over possible deals, including one that would allow the cable companies to resell wireless service under their own brands. Those discussions concluded without a deal.
A combination of Sprint and Charter would put together the fourth-largest U.S. wireless carrier with the No. 2 U.S. cable company. Sprint, based in Overland Park, Kansas, has a market value of about $32 billion.
Charter has a separate pact with Comcast that could complicate a deal with Sprint. The cable companies agreed in May to work together on any transaction with a wireless company in the next year. That means if Charter changes its mind and decides to merge with Sprint, Comcast would have a say in the matter.
— With assistance by Scott Moritz
Before it's here, it's on the Bloomberg Terminal.
LEARN MORE