SkyBridge Says HNA Sale Is on Track After Scaramucci Ouster
By and
Companies see approval in weeks despite review panel backlog

Lawmakers pressuring Trump to block China deals over N. Korea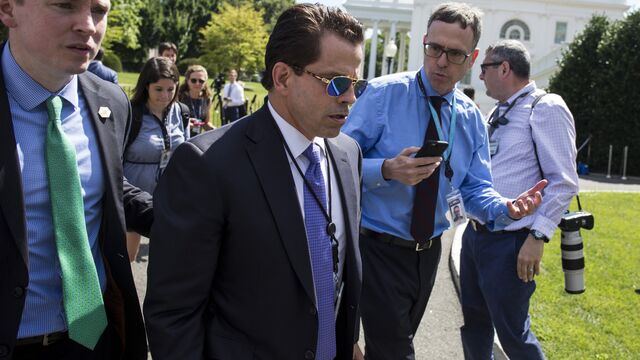 SkyBridge Capital said Anthony Scaramucci's deal to sell his stake is still on track following his ouster as White House communications director, though the deal still needs approval from a secretive national security panel that vets sales of U.S. companies to foreign buyers.
SkyBridge's deal to sell a majority stake to a subsidiary of HNA Group Co., the Chinese conglomerate, and a little-known investment firm called RON Transatlantic is moving forward and could clear regulatory hurdles to close within the next few weeks, spokesmen for the firms said Tuesday.
But approval from the Committee on Foreign Investment in the United States, or CFIUS, is far from certain, according to people familiar with the workings of the panel. CFIUS has effectively frozen deals involving Chinese buyers due to several factors, including lack of political leadership on the multi-agency committee and heightened concerns about China, according to the people familiar with the panel's work. The SkyBridge sale is one of about half a dozen proposed deals involving Chinese buyers that they say are backed up before the committee. CFIUS doesn't confirm, deny or comment on its reviews.
Scaramucci was fired Monday by newly appointed White House Chief of Staff John Kelly just 10 days after he was tapped for the post. Kelly was disturbed by the former Wall Street executive's vulgar rant about his predecessor Reince Priebus, according to a person familiar with his thinking. White House Press Secretary Sarah Huckabee Sanders told reporters Monday that Scaramucci "does not have a role at this time in the Trump administration" and won't return to a previous job at the Export-Import Bank.
Scaramucci didn't respond to requests for comment on his plans or on the SkyBridge transaction.
"The news about Anthony Scaramucci leaving his role as White House communications director has no impact on HNA's commitment to closing the SkyBridge transaction as soon as possible," Robert Rendine, a spokesman for HNA, said in an email. "We fully expect it to move forward and there is no change from our hope that it will be closed by the end of the summer."
'On Track'
The "transaction remains on track for approval," Rich Myers, a spokesman for SkyBridge Capital said in an email. In a statement posted to its website July 28, the investment firm said it hopes for a regulatory nod for the transaction "in the next 45 days or so."
The people familiar with CFIUS said the lack of leadership at the panel, combined with heightened concerns about China, have also created bottlenecks for deals that normally wouldn't have been held up over national security concerns. The logjam is effectively changing what has been a U.S. stance favoring foreign direct investment. Each deal is getting broader and deeper scrutiny than it would have gotten six months ago, said the people.
HNA in particular has been dogged by perceptions that it hasn't been entirely transparent, one of those people said. HNA's proposed $416 million investment in an in-flight entertainment and Internet-services provider Global Eagle Entertainment Inc. collapsed last week after it failed to win CFIUS approval.
HNA's ownership remains unclear. The company said last week a majority of its shares were held by Manhattan-based Hainan Cihang Charity Foundation Inc. and a China-based charity, Hainan Province Cihang Foundation. That prompted New York Attorney General Eric Schneiderman to ask for more information about the New York charity.
North Korea
Bank of America Merrill Lynch has told investment bankers to stop working on transactions with HNA for now amid growing concerns about the group's debt levels and ownership structure, people familiar with the matter told Bloomberg News last month.
Lawmakers are also raising concerns. On Tuesday, Senator Chuck Schumer, a New York Democrat, urged President Donald Trump to use his authority over CFIUS to block all mergers and acquisitions in the U.S. by Chinese companies until China helps "rein in North Korea's threatening and destabilizing behavior." Regulators in Europe and the U.S. have also raised questions about HNA's ownership structure, though other HNA proposals to purchase companies, including a $6 billion offer for computer hardware distributor Ingram Micro Inc., have succeeded in the recent past.
Other pending transactions involving Chinese buyers include Ant Financial's bid for MoneyGram, which was refiled last month after failing to secure clearance from CFIUS. Canyon Bridge Capital Partners LLC refiled its bid for Lattice Semiconductor Corp. in June. Genworth Financial Inc. and China Oceanwide Holdings Group Co. refiled notice of their pending $2.7 billion deal with CFIUS in July for a second time.
Another potential issue for the deal is that China is also stepping up scrutiny of its biggest dealmakers, including HNA and Anbang Insurance Group Co., as the government seeks to clamp down on capital outflows and debt.
Scaramucci's departure from the administration may jeopardize his application for a capital gains deferment -- a benefit available to incoming government officials who have to sell assets to comply with conflict-of-interest laws.
Without a government job, Scaramucci wouldn't have any conflicts to resolve, said Craig Engle, founder of the political law practice Arent Fox. "If you were selling an asset for getting a job and then you didn't get that job or you lost it, the rationale for the sale is gone," he said.
Scaramucci plans to pay capital gains taxes on the sale of SkyBridge, CNN reported Tuesday, citing his lawyer, Elliot Berke.
— With assistance by Margaret Talev, Justin Sink, Jennifer Jacobs, David McLaughlin, and Bill Allison
Before it's here, it's on the Bloomberg Terminal.
LEARN MORE