U.S. Sanctions Tighten Noose on Venezuela's State Oil Company
By and
PDVSA executive Simon Zerpa sanctioned last week by U.S.

Venezuela under microscope after Goldman deal, Exxon fine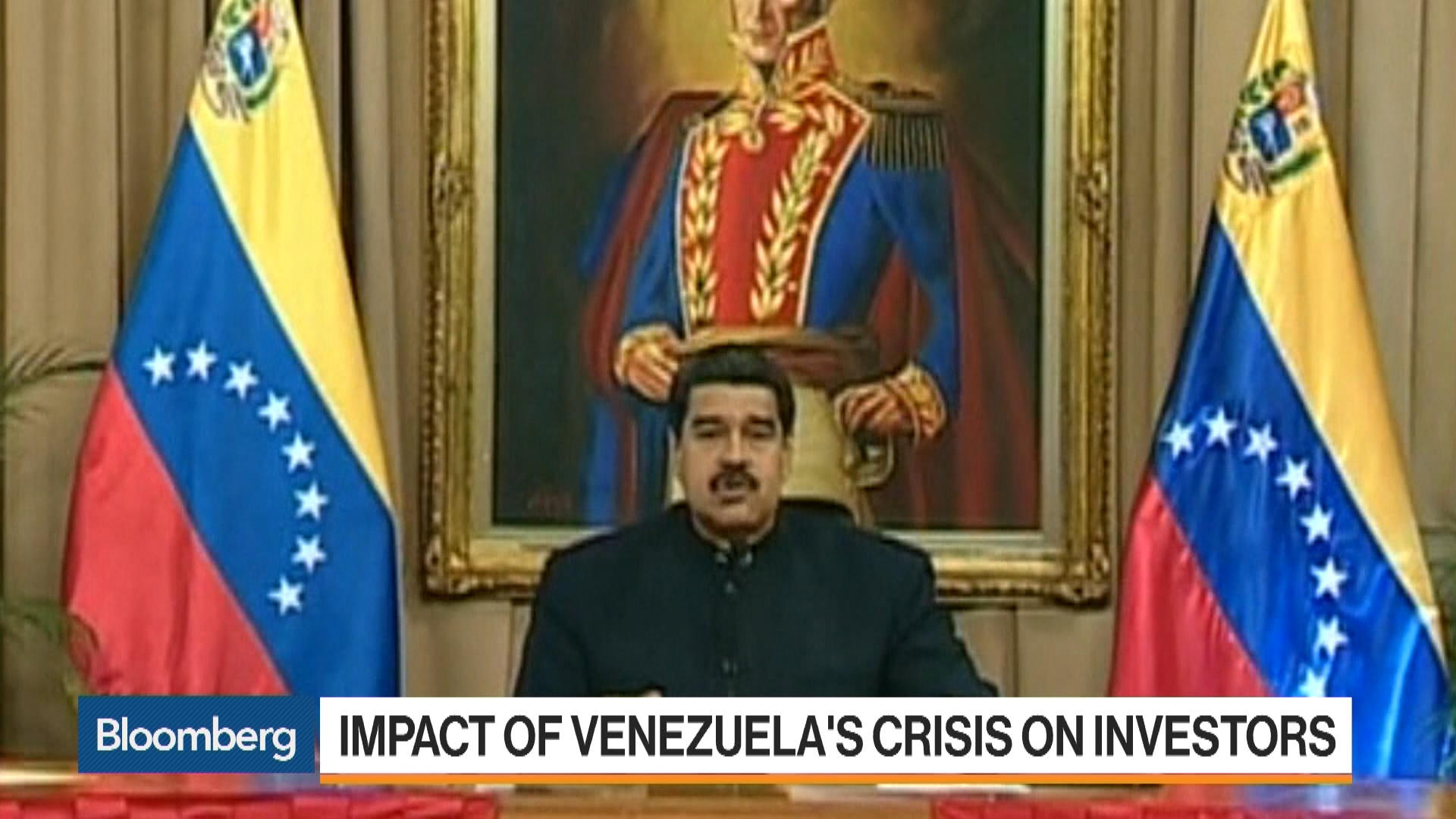 For traders investing in one of the world's riskiest companies, Simon Zerpa is an important man to know. He's also a dangerous man to know.
Wall Street bankers are keeping their distance from the 33-year-old vice president of finance at Petroleos de Venezuela, the state oil company, after the Trump administration levied sanctions on him and 12 other Venezuelan nationals last week. Compliance departments at at least two major U.S. investment firms have banned meetings with Zerpa for fear of overstepping Treasury Department guidelines, according to people familiar with the matter.
Such limits could curb the company's ability to work out debt swaps with investors, enter joint ventures or sell assets to raise desperately needed cash. That will likely force the nation to further limit imports of basic goods that are already in short supply if it wants to keep paying debt, according to Francisco Rodriguez, the chief economist at Torino Capital.
"What these restrictions generate is less access to financing, deeper import cuts and thus a deeper recession," Rodriguez said. He estimates Venezuela's current account surplus at $6 billion in 2017, which is almost the total of the nation's debt amortizations this year.
Financial dealings with Venezuela have been under the microscope since the investing arm of Goldman Sachs Group Inc. bought up almost $3 billion in bonds from PDVSA in May, leading to a probe by the opposition-controlled legislature and scorn from human-rights groups. Critics of President Nicolas Maduro's administration say such financing deals are propping up a despotic government that's intent on strengthening its grip on power. In recent months more than 100 people have died while participating in street demonstrations against the regime.
"Holders of PDVSA are feeling the walls close around them," said Ray Zucaro, the chief investment officer of Miami-based RVX Asset Management. "With senior management sanctioned, it effectively puts a muzzle on them."
PDVSA's $1.1 billion of notes coming due in November tumbled to a 10-month low, trading at about 72 cents on the dollar as of 1:21 p.m. in New York. Venezuela's $3 billion of bonds that mature in 2022 have tumbled 30 percent since the end of May, and now fetch 41 cents on the dollar.
Zerpa's case is particularly sensitive after the U.S. slapped fines on Exxon Mobil Corp for violating Russia-related sanctions. The Treasury Department said last month that Exxon "demonstrated reckless disregard for U.S. sanctions requirements" in dealing with Igor Sechin, head of the Russian oil firm Rosneft, mere weeks after he was blacklisted.
Zerpa also helps direct the $45 billion that Venezuela has borrowed from China to boost crude production and is president of his country's development bank. He had sought to improve communication with investors through invitation-only conference calls this year, an initiative that never came to fruition.
Some investors say that PDVSA could probably find ways to work around the sanctions and still meet with investors -- perhaps by replacing Zerpa or having another official act as the company's representative. But the company may still be too toxic for compliance officers, and there's also the possibility that more restrictions could be coming.
"The level of shaming for any U.S.-based institution is much higher than before, and soon it may be outright illegal to transact with the government," said Fernando Losada, an economist at AllianceBernstein Holding LP, which trades Venezuelan debt.
While the exchange of information between Zerpa and PDVSA bondholders is protected under the Berman Amendment -- which exempts contact that is solely informational in nature -- investors will likely think twice before entering such meetings, according to Judith Alison Lee, a sanctions lawyer at Gibson Dunn in Washington. She said she's received an increased volume of client calls on PDVSA since Zerpa was sanctioned.
"We're in a really murky area," Lee said. "You can't have any dealings with PDVSA where this guy is a central figure in the transaction. But as the CFO, that's difficult to avoid."
Before it's here, it's on the Bloomberg Terminal.
LEARN MORE