Kelly Sends Off Scaramucci, But Real Test Will Be Taming Trump
By , , and
The former general has no experience lobbying for legislation

Trump's off-message Twitter habits may be biggest challenge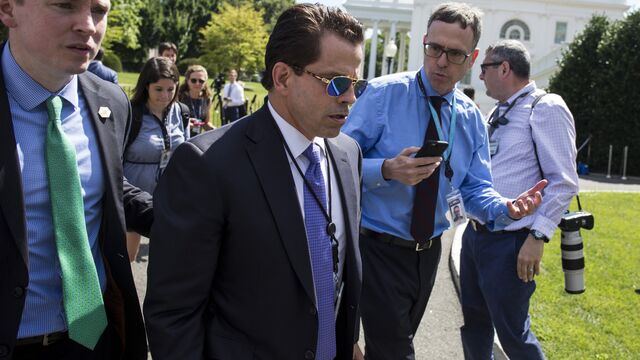 On his first day on the job, White House Chief of Staff John Kelly made clear to his new staff who's in charge by firing Anthony Scaramucci, the financier-turned-communications director who in just 10 days had dialed up the West Wing's drama to even greater heights.
Now the hard work begins. A retired four-star Marine Corps general, Kelly is trying to right an administration that has never found its footing. His boss wants major legislation to cross his desk soon, and Kelly, while respected on both sides of the aisle in Congress, has no experience applying pressure within the halls of the Capitol.

And foremost among Kelly's hurdles will be Trump himself. In more than six months, the president has shown no inclination to abandon the erratic tweets and off-message rants that time and again have thrown his White House off course.
Scaramucci's dismissal is "a signal that everybody needs to come through him, that there needs to be discipline," said Chris Whipple, author of "The Gatekeepers," a best-selling book about chiefs of staff. "To do it on Day One is a good first step, but it's a minimal first step. Ultimately you've got a much bigger problem, which is Donald Trump."
Scaramucci Decision
Dismayed with Scaramucci's profanity-laden rant about his predecessor, Reince Priebus, in an interview the New Yorker published last week, Kelly had decided over the weekend that the new communications director couldn't be part of his staff, a person familiar with his thinking said.
On his first day at the White House he attended an 8 a.m. staff meeting Priebus convened in his office, three White House officials said. He was sworn in as the new chief of staff shortly after 9 a.m. and then attended a Cabinet meeting. Later, he held his own meeting with about 25 of Trump's top aides, including National Security Adviser H.R. McMaster; Budget Director Mick Mulvaney; Counselor Kellyanne Conway; Counsel Don McGahn; National Economic Council Director Gary Cohn; Director of Strategic Communications Hope Hicks; Chief Strategist Steve Bannon; Trump's daughter Ivanka Trump; her husband and Senior Adviser Jared Kushner and others, the officials said.
Kelly and Scaramucci came to a "mutual agreement" that the communications director would leave the White House, Press Secretary Sarah Huckabee Sanders told reporters. Unlike under Priebus, all other staff in the White House now answer to the new chief of staff, she said. Scaramucci didn't respond to attempts to contact him.
"General Kelly has the full authority to operate in the White House and all staff will report to him," Sanders said, including Bannon and Kushner. No other senior staff are expected to depart, she said.
Scaramucci "does not have a role at this time in the Trump administration" and won't return to a previous job at the Export-Import Bank, she said.
Series of Departures

Scaramucci's dismissal is the latest in a staggering series of West Wing departures for the Trump administration. In just over six months, Trump has seen the exit of three named communications directors, his press secretary, his chief of staff, his national security adviser, the FBI director, and other top aides.
For a White House staff shaken by weeks of legislative failures and high-profile resignations and firings, the 67-year-old Kelly represents the best hope for a course correction.
One administration official said that unlike Priebus before him, the new chief of staff made clear he would be unafraid to say no to the president or anyone else. He also conveyed to a West Wing staff accustomed to open access to the president that they were all expected to report to him, the official said.
Others in the West Wing praised Kelly for his perceived success at the Department of  Homeland Security of stemming the flow of undocumented immigrants, as well as focusing his first Cabinet meeting on legacy-defining challenges, including a push for a tax overhaul. That subject, near and dear to Trump's heart, dominated the meeting, Cohn told a gathering of small business leaders at the White House.
'Clawing Back to Normal'
But the day was marked by Scaramucci's dismissal. The communications director had repeatedly threatened in crude terms to fire the entire White House press team and said he would ask the FBI to investigate colleagues he suspected of leaking, rattling other staff.
"Today's events are not surprising given John Kelly's integrity, experience and background," said Michael Hayden, a retired four-star Air Force general who led the Central Intelligence Agency and the National Security Agency under Republican and Democratic presidents. "That's the good news. Before we spike the football, though, let's remind ourselves that we are clawing back to normal here."
Whipple said that it'll be necessary for Kelly to supervise essentially every staffer, including household names like Conway, Omarosa Manigault and even Bannon and Kushner. Ivanka Trump and Kushner have both committed to work with Kelly to create more order in the West Wing, a White House official said, though walk-in privileges of they or other Trump children are unlikely to be curtailed.
Bannon has privately praised Kelly's tenure as Homeland Security chief and his position doesn't appear to be in imminent jeopardy, two people close to Bannon and Trump said.
Twitter Discipline
But most important for Kelly's success, Whipple said, will be imposing some discipline on Trump's use of Twitter. His early-morning missives, as much a surprise to his staff as to the public, frequently eclipse the White House's strategic messaging. Kelly shouldn't try to stop Trump for using Twitter, but he should insist Trump run his tweets through him before posting them -- or risk Kelly's resignation, Whipple said.
"There's never been a functioning White House that's had presidents just blurt out whatever they're thinking without running it past the chief of staff," Whipple said. "It sows chaos."
Monday afternoon, the president took to his favorite social media platform to weigh in on the day's events. "A great day at the White House!" he wrote.
Before it's here, it's on the Bloomberg Terminal.
LEARN MORE