German Diesel Cheating Gives Fuel to Merkel Foes
By and
Social Democrats say transport minister carries responsibility

Merkel's Bavarian allies urge tougher steps against carmakers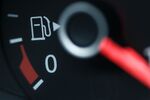 German carmakers' cheating on diesel emissions and possible collusion on technology have handed campaign ammunition to parties challenging Chancellor Angela Merkel's party bloc, which runs the ministry in charge of overseeing the industry.
Less than seven weeks before the Sept. 24 ballot, the opposition Green party and the Social Democrats, Merkel's junior coalition partner, are seeking to capitalize on the industry's wrongdoings and what they see as halfhearted attempts by Transport Minister Alexander Dobrindt to shed light on the scandal and force carmakers to comply with emission rules.

That's put pressure on the government to get tough at an emergency summit of ministers and industry executives in Berlin on Wednesday to address the diesel crisis. Merkel herself is being criticized for not interrupting her summer holidays to attend the gathering but thus far the scandal hasn't visibly impacted support for her CDU party.
The Greens and SPD are nonetheless trying to take advantage of the souring sentiment toward Germany's key industry and close an extensive gap to Merkel's Christian Democratic Union. On Sunday, Bild published a poll showing three-quarters of Germans want the government to be harsher toward carmakers breaking the rules, while 53 percent said the industry was no longer trustworthy.
"Dobrindt hasn't drawn any consequences from the diesel scandal in the past two years, he's a complete miscast," Oliver Krischer, deputy parliamentary leader of the Greens and deputy chairman of parliament's diesel investigation committee, said in an interview. "He's a disaster, I demanded his resignation a long time ago."
Ultimatum


In what sounded like an ultimatum to her fellow cabinet member, Economy Minister Brigitte Zypries, a Social Democrat, said Monday that Dobrindt "must publicly demonstrate what he, his ministry, and the Federal Office for Motor Vehicles knew" and provide that information before Wednesday.
Auto bosses are being summoned to Berlin to meet with Dobrindt, Environment Minister Barbara Hendricks and leaders from the German states with auto manufacturing to discuss a package of measures that include hardware fixes for millions of vehicles, software patches for others, incentives to get older diesels off the road and a fund to promote the shift to electric vehicles, people familiar with the matter said this week.

The goal of the summit is also to avoid outright bans following a court ruling on Friday that said blocking diesels from entering Mercedes-Benz's hometown of Stuttgart might be the best way to quickly clean up the air.
Critics such as environmental advocacy group Deutsche Umwelthilfe have lambasted the KBA motor vehicle authority for facilitating the recent scandals through cozy relations with manufacturers and looking the other way on the gap between emission test results and real-world pollution.
Political Problem
"If the KBA doesn't check properly, then this is a political problem," said Johannes Kahrs, a spokesman for the SPD's conservative wing in parliament. "The fish always starts to stink from the head," he said, alluding to Dobrindt's responsibility as the KBA's supervisor.
In a bid to connect Merkel to the scandal, Kahrs told the Berliner Zeitung newspaper that the chancellor should interrupt her holidays in the Italian Alps to attend the Wednesday meeting. With millions of German car owners affected, Merkel's absence would be "irresponsible," he said. The Chancellery is sending State Secretary Helge Braun to attend the conference, deputy government spokeswoman Ulrike Demmer told reporters Monday.
The chancellor's camp at the same time is making efforts of its own to please diesel-driving voters. Horst Seehofer -- chairman of Merkel's Christian Social Union ally and state leader of Bavaria, home to Bayerische Motorenwerke AG and Audi AG -- said he's sympathetic to the idea of giving consumers a mass-litigation tool against cheating companies. Authorities must take tougher steps against the industry if its behavior doesn't change, Seehofer said Sunday on ARD public television.
Ballooning Recalls
Thus far, the unfolding scandal hasn't dented support for Merkel's bloc. Backing for Merkel's Christian Democrat-led bloc held at 38 percent in an Emnid poll for Bild am Sonntag, while support for the SPD and its chancellor-candidate Martin Schulz slipped one percentage point to 24 percent. That compares with 9 percent each for the anti-immigration Alternative for Germany party and the post-communist Left party. The Greens and Free Democrats stood at 8 percent each. The poll of 1,921 people was taken July 20-26.
The recalls have ballooned in recent weeks as Dobrindt has taken a tougher stance. Last Thursday, he forced Volkswagen AG's Porsche brand to recall the diesel version of the Cayenne SUV and said that the VW Touareg may also use a defeat device to cheat emissions. Daimler AG's Mercedes-Benz on July 18 announced plans to voluntarily recall 3 million diesel vehicles in Europe to upgrade their technology, while VW's Audi brand said three days later it will service 850,000 cars. VW in total has expanded its recall to about 4 million cars to upgrade the engine software.
"I am definitely not available for any chuminess," Dobrindt said Tuesday in an interview on ARD over accusations that the his ministry is too cozy with automakers.
— With assistance by Arne Delfs, James Regan, and Brian Parkin
Before it's here, it's on the Bloomberg Terminal.
LEARN MORE