Egypt to Top $10 Billion FDI Target This Year, Minister Says
By and
Investment pipeline includes energy, logistics and tourism

Cost of doing business has fallen since float weakened pound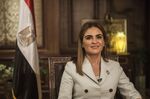 Egypt may exceed its $10 billion target for foreign direct investment this year as the weaker pound reduces the cost of doing business in North Africa's largest economy and a new investment law comes into force, the investment minister said.
Sahar Nasr told Bloomberg she had been approached by investors from Saudi Arabia, Singapore, China and the United Arab Emirates -- including Emaar Properties PJSC Chairman Mohamed Alabbar and Al Ghurair Group -- about potential investments. The pipeline for the fiscal year that began July 1 includes oil and gas, real estate, tourism and logistics investments, she said in an interview in Cairo on Monday. Nasr said it was too early to comment on the size of the potential deals.
The Egyptian pound has halved in value against the U.S. dollar since the central bank removed most currency controls in November, helping to end a foreign currency shortage and secure a $12 billion loan from the International Monetary Fund. The government also embarked on a structural reform program that includes subsidy cuts and new taxes to control its ballooning budget deficit.
"With the devaluation, the cost of labor -- blue or white collar -- is lower than elsewhere," Nasr said, adding that even with recent reductions in fuel subsidies, the cost of energy in Egypt remains less than in neighboring countries or other emerging economies. "Egypt sure has an edge."
Egypt received about $8.7 billion in foreign direct investment in the fiscal year ended June 30, Nasr said, an increase from $6.9 billion a year earlier but below its $10 billion target. U.S. investors have also expressed an interest in doing deals, while companies that are already in Egypt, including Mars Inc. and General Electric Co., are planning to expand, she said.
Read More: Egypt Foreign Reserves Surge to Record as Confidence Returns
Red Tape
President Abdel-Fattah El-Sisi ratified a new investment law this year aimed at cutting red tape, giving what Nasr called a "significant signal from the highest political level that, yes, Egypt is open for business."
Though the weaker currency has boosted investor confidence and attracted inflows, it has also helped drive inflation above 30 percent, pressuring Egypt's 93 million people, half of whom live near the poverty line -- and confronting El-Sisi's government with a major challenge.
The central bank has responded to rising inflation by increasing its benchmark interest rate by 7 percentage points since November, prompting some companies and economists to warn that the increased cost of borrowing could deter investment and depress growth. Some economists have also cautioned that higher interest rates are unlikely to curb rising prices in a country with a large informal economy and where much of the population is unbanked.
High interest rates have not proven to be a major hurdle for investment, Nasr said, with companies more focused on currency issues and bureaucracy. 
"Despite the complaints about bureaucracy, they're still investing. We are also working full force to cut red tape," she said. "In the oil and gas sector, currency convertibility was an issue, and now with the problem of the arrears being addressed, they are picking up investment at a faster rate."
Nasr also said: 
The World Bank's board will consider the third $1 billion loan tranche for Egypt in December
The initial public offering for Enppi, or Engineering for the Petroleum & Process Industries, is expected before the end of 2017
Executive regulations for the new investment law will be issued before the end of August
Saudi investors have shown special interest in investing in South Sinai near the Red Sea resort of Sharm El-Sheikh
Before it's here, it's on the Bloomberg Terminal.
LEARN MORE