politics
Obamacare Premium Hikes Could Double in California If Trump Ends Subsidies
By
Administration expected to decide on insurer subsidies soon

Health plans have pulled back from ACA amid uncertainty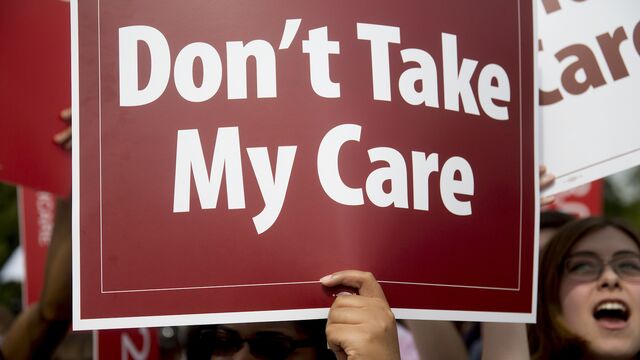 Health insurers that sell Obamacare plans in California say they'll double premium increases for some plans next year if President Donald Trump follows through on a threat to cut off subsidies under the law.
Insurers requested a 12.5 percent rate increase on average for 2018 Obamacare plans, the state's Covered California exchange said in a statement Tuesday. Trump, however, has threatened to stop paying what are known as cost-sharing-reduction subsidies -- which insurers get to help lower-income people afford to use their plans. If that happens, insurers would increase rates by another 12.4 percent on mid-level plans, the state said.
"We prepared these rates in the midst of great uncertainty," Peter Lee, Covered California's executive director, said on a conference call with reporters. "The federal administration has not committed to continuing these payments."
After legislative efforts to repeal and replace the Affordable Care Act faltered last week in the Senate, Trump threatened -- as he has several times -- to pull the cost-sharing subsidies. Without the payments, insurers nationwide may drop out of the Affordable Care Act's exchanges or substantially raise premiums.
California said it would decide whether to let insurers boost their rates by the end of this month. The Trump administration has indicated it may decide on the subsidies as soon as this week.
California Insurance Commissioner Dave Jones said separately that he would take legal action if the Trump administration cut off the payments. Jones is one of the state's health insurance regulators.
Health Hearings
In Washington, D.C., Senator Lamar Alexander, the Tennessee Republican who heads a key health committee, said he's urged Trump to continue making the cost-sharing payments through September. That would give lawmakers time to pass a bill ensuring the subsidies are paid through next year, as part of a broader short-term stabilization effort, he said. His committee, known as HELP, for Health, Education, Labor and Pensions, plans to hold hearings on the health insurance market the week of Sept. 4, he said.
Insurers have pulled back from the ACA amid financial losses on plans and uncertainty about its future. Anthem Inc., one of the last major publicly traded companies still participating in the law, will pull out of 16 of 19 regions in California, according to the state.
Other states have seen rate increases tied to the subsidy threat and other uncertainty around Obamacare's future.
In Tennessee, the state's BlueCross BlueShield plan said that more than half of its 21 percent rate increase for next year was because of the potential loss of the cost-sharing-reduction subsidies. And in North Carolina, the BlueCross BlueShield carrier said that turmoil around the law led it to request a 22.9 percent rate increase, rather than the 5 percent to 6 percent boost it would have asked for otherwise.
Lee said he's looking for certainty from the administration and Congress on the cost-sharing subsidies through 2018.
"A tweet would not be enough," Lee said.
(
Updates with insurance regulator in the sixth paragraph.
)
Before it's here, it's on the Bloomberg Terminal.
LEARN MORE