Republic of Macedonia Mends Ties With Bulgaria Eyeing EU
By
Deal seeks to ensure Bulgarian support for Skopje's NATO path

Balkan neighbors agree to overcome historical disputes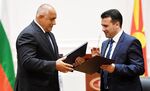 The Republic of Macedonia signed a friendship accord with Bulgaria in a bid to improve ties between the Balkan neighbors and revive efforts to join the European Union and NATO.
The former Yugoslav republic's prime minister, Zoran Zaev, and his Bulgarian counterpart, Boyko Borissov, signed the pact Tuesday in Skopje, Macedonia's capital. Bulgaria had demanded the agreement "on friendship, good neighborly relations and cooperation" as a condition of backing Macedonia's ambitions to become an EU and NATO member.
The move is part of a renewed EU-accession push in the Balkans, where countries including Serbia are bidding to follow Croatia, the most-recent entrant, into the trading bloc. Zaev took office in June in Macedonia's first leadership change in more than a decade, pledging to resolve conflicts with neighbors to revive his nation's membership chances. Another obstacle is a naming dispute with Greece, which has a region called Macedonia.
"This treaty sends a message to EU and NATO that the countries in the region have political leaderships that build bridges, supported by democratic people," Zaev told reporters in Skopje. "The Balkans deserve a Euro-Atlantic perspective."
While the two countries share similar languages and maintain close cultural relations, Bulgaria -- an EU member since 2007 -- had accused Zaev's predecessor of fueling anti-Bulgarian sentiment. The friendship agreement, demanded by Bulgaria in 2012 in return for its backing on EU and NATO membership, is designed to prevent territorial claims and interference in domestic affairs based on historical disputes between the two nations.
EU Perspective
The two nations also agreed to link their natural gas grids and complete a 280 million-euro ($330-million) railroad between Sofia and Skopje by 2027, Borissov said at the signing ceremony.
EU foreign policy chief Federica Mogherini and EU Commissioner Johannes Hahn welcomed the treaty in a joint statement on the European Commission's website.
"This agreement demonstrates the determination of both sides to overcome bilateral issues and is an inspiration for the whole region," Mogherini and Hahn said. It "boosts the EU perspective of the former Yugoslav Republic of Macedonia."
The yield on Macedonia's euro-denominated bonds maturing in July 2023 fell 2 basis points to record-low 3.913 percent at 2:40 p.m. in Skopje, according to data compiled by Bloomberg.
Before it's here, it's on the Bloomberg Terminal.
LEARN MORE