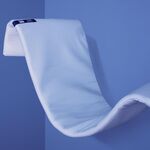 The Characteristics
Premium mattress company Airweave, started by Motokuni Takaoka in Japan in 2004, has introduced a $590 mattress pad for airline seats that meets the TSA standard for carry-on luggage. Designed in conjunction with the Ritz Paris and dubbed the Traveler, it's 19.7 inches wide, 66.9 inches long, and a bit more than an inch thick. Because the core is 90 percent air, it weighs a mere 5.5 pounds, and rolled up, it fits in a carry-on-size duffel. The Traveler rests snugly in your airplane seat: One side provides firm support; the other is soft. Like all Airweave products, it uses a special resin fiber that marries the even support of latex and foam with the fast rebound associated with a coil-based mattress.
The Competition
Airlines know that fliers will pay up for a good night's sleep, and almost every carrier has invested heavily in premium lie-flat seats. A few also give mattress toppers to first- and business-class passengers—Etihad Airways has offered Coco-Mat mattress pads since 2014, and United Airlines Inc.'s Polaris service features options from Saks Fifth Avenue. Seat-size toppers, however, have been harder to find. Other high-end sleep-aid options include the $40 Cabeau Evolution memory-foam neck pillow, which comes with a pocket for your phone, or the funny-looking $100 Ostrich Pillow, which covers your face for privacy and total darkness.
The Case
The Traveler truly makes overnight flights more comfortable. The pad unrolls like a sleeping bag; in an upright seat, the bottom end hangs unobtrusively to the floor. It cushions pressure points like your upper back and the back of your thighs, and relieves some of the aches that occur in slimline seats. You can use it on upright and lie-flat seats with ease, making rest a greater possibility. Crucially, the mat rolls up into its duffel without a struggle, something even the most well-rested flier doesn't want to contend with at trip's end. 
Before it's here, it's on the Bloomberg Terminal.
LEARN MORE