Your Evening Briefing
Here are today's top stories for Europe.
Bloomberg News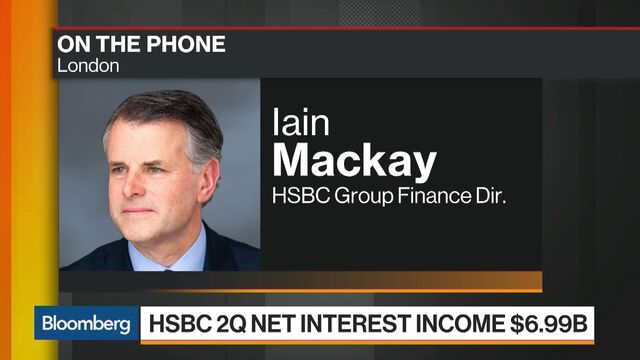 The evening briefing will soon be available in your inbox every day. Sign up here.
HSBC posted a second quarter of revenue growth and announced plans to return another $2 billion to investors, indicating that departing boss Stuart Gulliver's effort is bearing fruit after five years of declining revenue. Europe's largest bank also became the first to spell out its potential price tag for Brexit: $300 million in legal and relocation fees to move 1,000 staff to Paris. — Leila Taha and Andy Reinhardt
Caught in a net. The British fishing industry can't wait to get out of the EU and reclaim control over waters now fished by European rivals. But fiercely pro-Brexit fisherman are caught in a paradox facing many ardent Leavers: they want autonomy but also to retain access to the single market for exporting their goods without tariffs and red tape. The fear is that they'll end up with access to more fish, but fewer markets to sell it into.
Russian retaliation. The Russian government ordered the U.S. to reduce its diplomatic staff in the country by 755, or nearly two-thirds, as payback for new sanctions passed by Congress. Vladimir Putin said he he hoped there would be no more retaliations, but the move reflects the Kremlin's deepening disillusionment with President Donald Trump, and a new low point in recent relations between the two countries.
Work to do. Greece looks to be on the mend, with new loans, a return to the bond market and a ratings outlook upgrade. But scratch below the surface and there's still a huge amount of reform work needed. Dozens of regulations are only partly implemented and 100 more must be agreed to within the next year to access the next tranche of EU funding. Changing entrenched social habits is proving harder than slashing paychecks and budgets.
Tesla's big reveal. Tesla has unveiled its long-awaited Model 3, handing the keys to the first 30 customers. But 500,000 have put down deposits for the electric car, which starts at $35,000. If you want to get a look at the vehicle, which has a surprising 310-mile (500-kilometer) range, don't worry—we took it for a test drive. Get a feel for what it's like to cruise inside the glass-roofed clean vehicle that's taking aim at BMW and Mercedes.
World Cup. There's no end in sight to the Gulf diplomatic crisis, but Qatar says its plans to host the 2022 World Cup won't be stopped. The Saudi-led boycott has cut the tiny nation off from construction materials it was counting on to build a new city ahead of the world's most-watched sporting event. Instead Qatar is sourcing materials from different countries via new routes— and it can afford to pay for them thanks thanks to its vast natural gas resources and assets around the globe.
Home, James. The newest big BMW is the M760i, a handsome sedan with a mammoth V12 engine. Introduced this summer with a starting price of $156,495, it's meant to attract buyers who prefer being chauffeured in an executive-style lounge car. That doesn't mean it isn't delightful to drive, but the real fun is the "to die for" back seat, says Bloomberg's Hannah Elliott.

Compiled by Andy Reinhardt and Leila Taha
Before it's here, it's on the Bloomberg Terminal.
LEARN MORE