Your Evening Briefing
Bloomberg News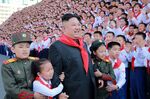 The evening briefing will soon be available in your inbox every day. To be among the first to get it, sign up here.
Is Kim Jong Un a nuke-wielding madman or an astute dictator? Much of the strongman's life and thinking remains shrouded in secrecy but one thing is clear: his aggressive rhetoric and regular missile tests are becoming a nightmare for the international community. Donald Trump and Japan's Shinzo Abe have agreed more action is needed on North Korea following the isolated regime's test-firing of a second intercontinental ballistic missile in a month. But in Pyongyang, the North Koreans remain defiant. The city's landmark "pyramid" hotel received a makeover, and it now sports a shiny new propaganda sign that reads "Rocket Power Nation." —Kristine Servando
Chinese authorities have asked insurer and Waldorf Astoria owner Anbang, whose chairman was detained in June, to sell its overseas assets and bring the proceeds back to China, according to people familiar with the matter. Anbang and several prolific Chinese buyers of foreign assets have come under regulatory scrutiny. The billionaire chairman of one such firm, Fosun International, has declared his backing for China's clampdown on outbound investments, which he says is necessary to protect the economy.
Singapore comes second in innovation, trailing only Switzerland, according to a 2016 ranking of 35 countries. The ranking evaluates countries based on factors such as education, the economy and digitalization. As an innovation leader, Switzerland has proved hard to beat — it's taken the top spot 26 times.
Japan has a jobs-for-life problem. Economic theory suggests that the tightest labor market in more than 40 years ought to be more than enough to push wages and inflation higher in Japan. Reality is proving different. Figures indicate many workers are unwilling or unable to switch jobs to areas where demand is highest.
Trump's dollar doldrums. The greenback has fallen hard on the U.S. leader's watch, and currency traders now are betting on even more declines. Washington's political dramas are increasingly taking center stage, and there's no better place for investors to express their views on how the nation manages its affairs than the $5.1 trillion-a-day global market for foreign exchange.
Embracing the Islamic heartland. Malaysia's leader, Najib Razak, has struck an unlikely alliance with a long-time nemesis to burnish his ruling party's credentials with Muslim voters as a federal election looms. He's brokered a rapproachment with the hardline Pan-Malaysian Islamic Party, which pushes for Shariah law, a move that may bring him support but also carries political risks.
It's rocket science. Japan's first privately funded rocket blasted off Sunday, marking an attempt by its entrepreneur backers to join the elite club of commercial spaceflight firms, including Elon Musk's SpaceX. Even though the Momo rocket fell 80 kilometers short of its 100-kilometer altitude target, its maker, Interstellar Technologies, isn't giving up on its cosmic dream just yet.
Want to get your hands on Tesla's newly unveiled Model 3? Tough luck. Musk handed the keys to the first 30 customers at a launch on Friday, but others on the 500,000-long list may have to wait a few more months. Not to worry, though. Our test drive gives you a first look and feel of what it's like to be inside the elegant, glass-roofed electric car, which starts at $35,000.

Before it's here, it's on the Bloomberg Terminal.
LEARN MORE